On Saturday, August 15, 2015 we started the adventure that we have been preparing for six months; our trip to Hong Kong. We left for Hong Kong to live and study there for no less than five months. This series of travelogues consists of seven parts. In this blog you can read about a special bus experience, eating with chopsticks and a visit to the Consulate General.
Laugh at Nadia and Goort in Hong Kong
Hello, here we are again!
Welcome to a new episode of "Laughing at Nadia and Goort in Hong Kong". Because that is actually what these blogs are about if we can believe the reactions to the first two. We are happy that our experiences are laughable. This is of course because everything is new and cultural differences often lead to strange and funny situations. Since we now go to university every day and have a routine, we unfortunately also experience less strange things.
Yet we have something to report, for example we regularly suffer from what we now call; "The anthill syndrome". When we say that Hong Kong is busy, you probably visualize a fairly accurate mental picture. Just think of the typical crowded streets, people crammed together in the train, etc. This actually makes the whole city feel like an anthill. Despite the fact that you are literally nowhere alone, and there are always hundreds if not thousands of people around you, we often feel much more lonely than when you are walking around in a small village in the Netherlands – something we have ample experience with. It feels a bit like you could be missed, if when you drop dead you (like with ants) are carried out of the hill so that normal business can continue because "there are still plenty of ants left".
To demonstrate that we do learn something at the university, Goort would like to point out that researchers have come up with a very nice term for it; "Diffusion of Responsibility". Several studies have shown that when someone is in need, and there are only a few people passing by, they feel responsible for helping the person in question. However, if there are hundreds of spectators around, everyone often looks at each other quizzically like; what now?
Here on the streets you also see that, although Hong Kong is a modern city with a good health care system and emergency services, various groups of minorities are somewhat forgotten. Steve, our neighbor, said that the increasing workload and hard life in Hong Kong mean that many people have to retire early because they succumb to the pressure. Most people work 13-hour days for 6 days a week. For that reason we quite often encounter – "can I say this? Yes I can say this" – retarded-totally-insane-idiots on the streets and in the trains.
Provide us with a nice example then! I imagine you're thinking. Take today, Goort walked into the bus, but it was full downstairs, then one floor up; also full. Oh wait, a second look revealed there was exactly 1 spot left; YES! Goort should have known better …
Once Goort sat down, he noticed a drooling man sitting next to him who looked rather uncomfortable. He decided to look the other way. Unfortunately, the man thought otherwise. He started making paper fans of thousands of Hong Kong Dollars and placing them in a very obvious way between us. Then he started to cough excessively and to tap Goort's foot with his foot. Well, then you just have to look sideways, am I right?
The moment Goort did that, the man quickly took the money away and started yelling at Goort in Cantonese. Probably because he wanted to pretend Goort wanted to steal his money. During his screaming, Goort was given a free slime shower, making him extra grateful for all the vaccinations he had to take before leaving for Hong Kong. When everyone, including Goort, ignored him again, he started waving his fan of money, drooling on his yellowed shirt. When this went on for ten minutes and he realized that Goort would not fall for it again, the best man decided to start chewing on his own arm. You could hear him biting and sucking, making Goort thinking he should offer the man a salad on the side.
It is therefore perfect that we have each other, and do not have to experience real loneliness.
Alright, new topic; We proudly announce that we have increased our efficiency when eating with chopsticks. It went reasonably well before, but now we are achieving a return of at least 80%, which means that 80% of the food we order ends up somewhere in or on our face. In the Netherlands we already got along well with the infamous chopsticks, but here they have many types of food that are a little more difficult to grasp than the snacks of your average Dutch sushi restaurant.
Take the noodles for example, which we call fun fair food. The spaghetti-like strings often lie with vegetables and / or meat of your choice in a dish with a kind of hot broth. Read hot as in very warm, not spicy.
Why do we call it fun fair food? Have you ever tried to grab such a cuddly toy with a claw grabber machine at the fun fair?
Step 1: You throw a euro in that machine (and often only stop when you have given up your monthly salary)

Step 2: You aim to the best of your ability

Step 3: That grabber lifts a stuffed animal

Step 4: The grabber gets closer and closer to the hatch

Step 5: The grabber drops the cuddly toy just in front of the hatch, or on the wrong side of the edge

Step 6: Just another euro …
It's actually exactly the same with the noodles, only there are real special effects!
Step 1: You push your chopsticks all the way to the bottom of the bowl

Step 2: You use your muscular hands to squeeze the sticks as hard as possible

Step 3: You start to lift gently and wait to see if noodles come up with it

Step 4: You hold a bunch of noodles and start to lift it higher and higher above the hot broth

Step 5: Keep your mouth wide open and slowly move towards the sticks without shaking

Step 6: You let your noodles slip away just before you put them in your mouth, after which a festive-looking fountain of boiling hot broth lands in your face and on your shirt.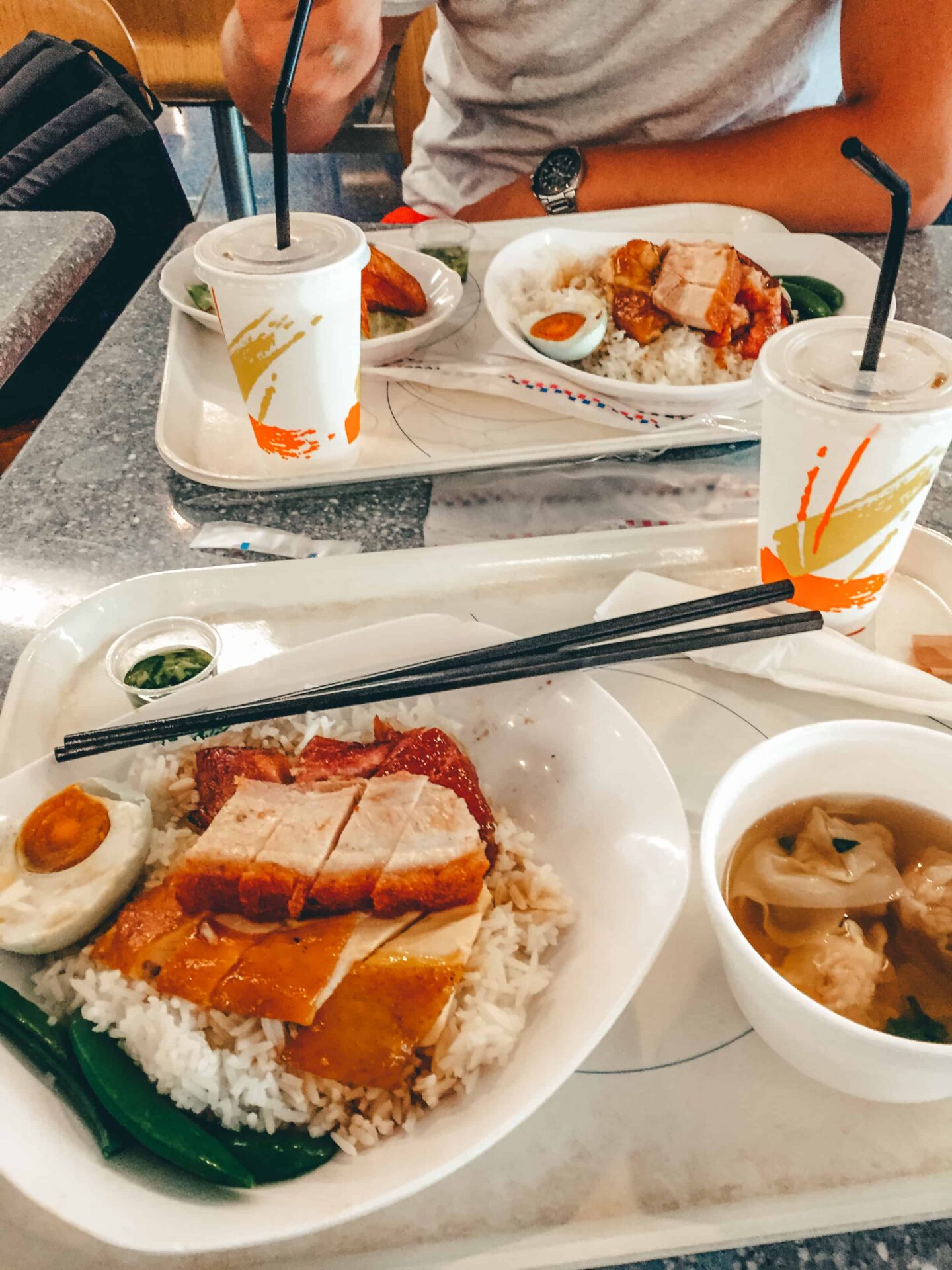 Consulate General of the Dutch embassy
And now the sequel to our brand new column "That's awesome!"
Receiving an invitation for a drink at the Consulate General of the Dutch embassy; That's awesome! After reading the invitation, which stated that we were invited from 6.30 to 8 pm for a fancy drink at the Consulate General, Goort thought he knew what was going to happen; an hour and a half of drinks at the Consulate General. Sounds logical right?
Never have we been more wrong! The preparations started 30 hours earlier, when Nadia dragged Goort along to go shopping for new clothes and shoes. Well, to make a long story short, after a day of intensive preparations, the time had come. When returning home from university, we put on less sweaty clothes in about ten minutes, ran back to the bus, on to the train and an hour later we arrived at the nearest train station. From there we had to take the taxi.
There were a number of other Dutch students looking for a taxi at the same place, so it seemed only logical to share the costs and thus take a taxi together. There is a sticker on the back of the taxis, stating how many seats the taxi has. There were five of us and we found a taxi with a green sticker with 5 on it, easy right? Well, it was not new to us that the Hong Kong people are a bit shorter and thinner than the average Westerner, but we now also know exactly how much; one-fifth.. This resulted in a very sultry, warm and intimate taxi ride, where we sat more on top of each other than next to each other.
Once arrived at a way too big villa, it was strange to see so many fellow Dutch students. Everyone looked smart, and the Consulate General took the effort to shake hands and introduce himself to all 220 attendees. In the garden there were two small camping tables with a tablecloth over them, behind which 2 small Filipino employees were pouring wine and beer. The atmosphere was very pleasant and everyone shared their experiences in Hong Kong with each other. After an hour and a lot of wine and beer, the General began his two-minute speech, however, for most of those present the highlight of the evening came, apparently, after the speech.
The Consulate General had made the mistake of thinking that 220 Dutch students, free drinks and one small Filipino employee with a bowl of 30 traditional Dutch bitterballen would be a good combination …
We were honestly just ashamed of the spectacle that was going on at the time. It once again verified Darwin's theory of the "Survival of the Fittest". The waitress didn't know what happened when 220 starving students shot off with their stiletto heels and platform shoes to grab a bite of steaming Dutch waste meat.
Okay, to maintain some credibility I have to admit that we too were among the 30 winners of the first round. They then tried twice more, but each time they did not get further than two meters outside the kitchen. Around nine o'clock most of the (very drunk) fellow students dropped out and we also left. We then kept an eye on the news to see if an article about an art robbery or the like appeared anywhere. We had noted that at the end of the evening there were a lot of greasy fingers on the Delftware and painting collection of the general.
Also in the category 'That's awesome'
And further;
We have seen and done a lot of fun and/or weird things, below a chronological list with a short description:
It is apparently normal here to have an ice rink in the mall!
We have visited The Temple of Ten Thousand Buddhas. It was an impressive temple where the ashes of many cremated people are placed. Here relatives of the deceased place various objects such as Chinese fireworks, food and incense as a sacrifice for the deceased in the afterlife.
We visited the Wong Tai Sin temple, unlike the above mentioned temple this is an active temple which means that many monks and worshipers gather here to express and profess their faith.
Thereafter we went to visit the almost extinct pink dolphins. There are about 60 of them left, and unfortunately they will probably soon be extinct due to pollution, the building of bridges and the intensity of the freight traffic.
We visited the Big Buddha via a very long cable car, one of the largest bronze sitting Buddhas in the world!
We also visited the Po Lin Monastery, also an active temple. And if you thought the Catholic Church used to be rich, then you should take a closer look at the pictures.
We then visited the non-touristy fishing village of Tai-O, where they sell a lot of dried fish and shellfish, including whole sharks.
Ocean Park is one of the larger amusement parks in Hong Kong which consists of a zoo with Asian animals such as Giant Pandas, a large aquarium and an amusement park with roller coasters etc.
Last but not least! WE RECEIVED OUR HEAVENLY SOFT TOPPER MATTRESS. Which turned out to be quite a hassle, because we also had to drag the mattress from IKEA to our room ourselves.