Hong Kong is a special administrative region of China, its official name is Hong Kong SAR (Special Administrative Region). Hong Kong has the best of both worlds; an impressive and busy city, but also beautiful nature. It is a combination between the East through influences from China and the West through old influences from the United Kingdom. A city that we have come to love when we lived here for five months.
In this blog you will find a top 15 about Hong Kong with the most beautiful and inspiring things that you really should not miss when visiting Hong Kong!
Victoria Peak and the peak tram
Victoria Peak is one of the highest points in Hong Kong. From here you have a beautiful view of the entire city. Both Hong Kong Island and Kowloon are clearly visible, and Victoria Harbor can also be seen. A wonderful place to enjoy the skyline and skyscrapers.
To get to the top of Victoria Peak, it is best to take the peak tram. This is an old tram which is pulled all the way up from Garden Road by cables. The waiting time of the tram can sometimes increase due to the crowds, even though a tram leaves every 10 to 15 minutes.
Once atop Victoria Peak, at 396 meters, you can visit the Peak Tower. In this stylish and modern building you will find restaurants, shops and entertainment. On top of the Peak Tower you can find the Sky Terrace 428, a platform where you have a panoramic view of the entire city. From here you can also take the most beautiful photos when the weather is clear. This roof terrace is, as the name suggests, 428 meters high, making it the highest vantage point in the city.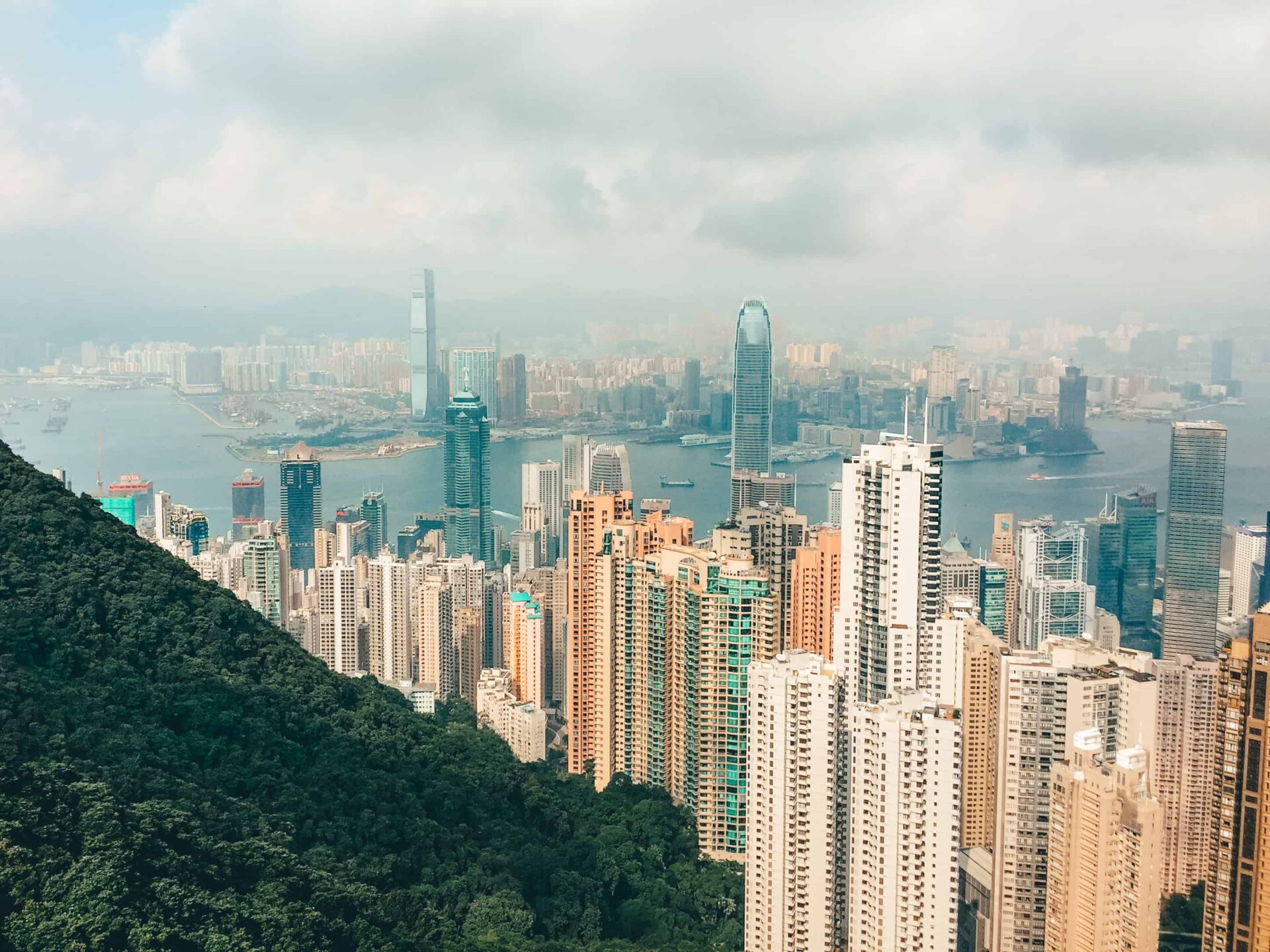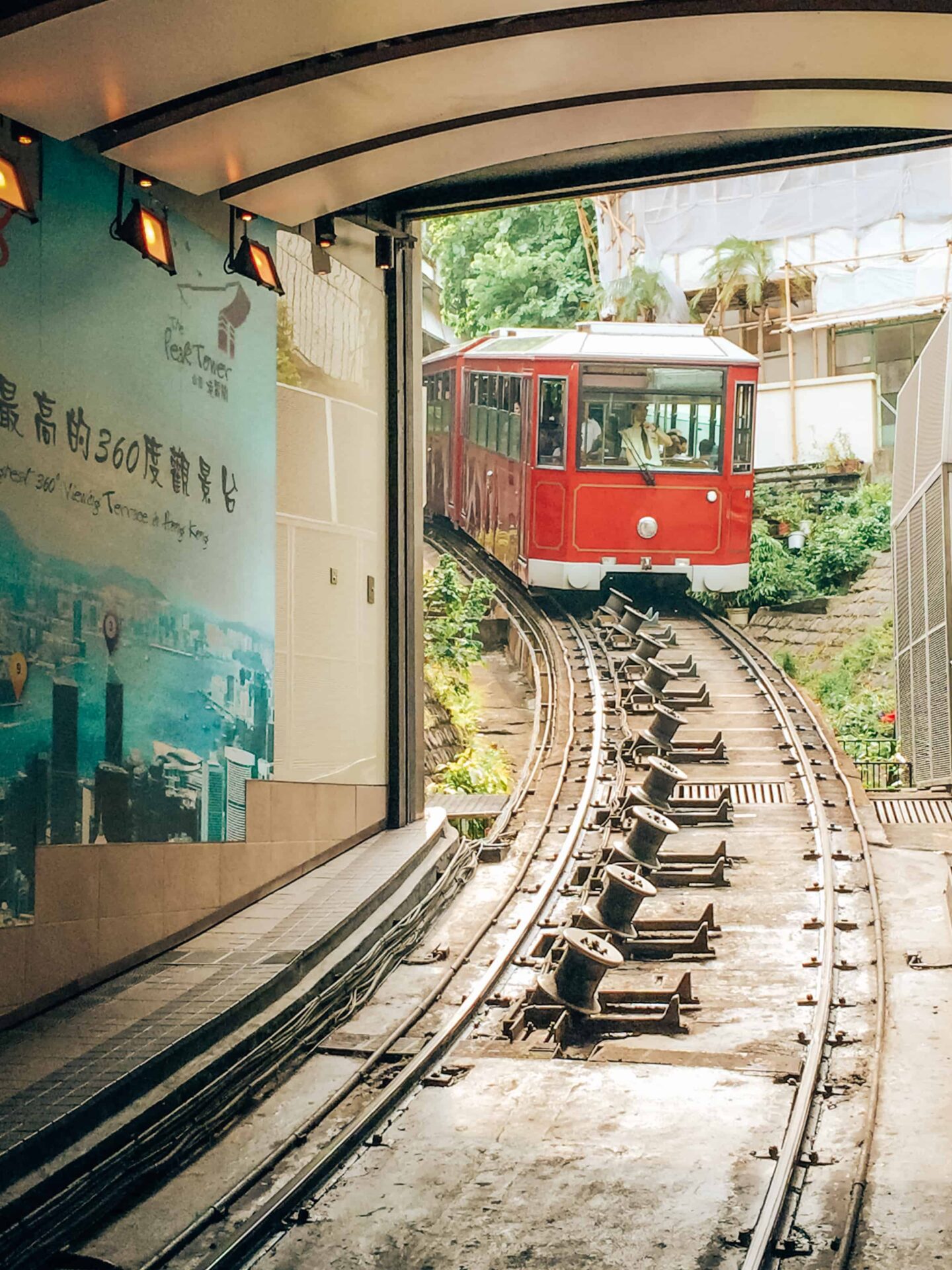 This island has so many beautiful sights that we should actually make a separate top five for it. Not high skyscrapers, but beautiful nature and culture prevail here. It has, amongst others, the Tian Tan Buddha, the Po Lin Monastery, Tai O, the Ngong Ping 360 and you can join a pink dolphin tour from here. We went on a day trip to this island to combine all these things.
This is one of the largest bronze Buddhas in the world and one of Hong Kong's most impressive sights. The Buddha itself is 34 meters high but rises 500 meters above sea level and can therefore be seen for miles around. You have to climb 268 steps to get a closer look at the statue, but it is well worth it!
Next to the Tian Tan Buddha is the Po Lin Monastery, one of Hong Kong's most important monasteries. This is an active monastery which means that monks still live there. The monastery is characterized by its colorful images and cheerful garden.
To get to the Tian Tan Buddha and Po Lin Monastery, we recommend taking Ngong Ping 360, a cable car from Tung Chung. The Tian Tan Buddha is already visible from this cable car, but the airport and the nature of Lantau Island also provide beautiful views. A single ride takes approximately 25 minutes.
Tai O is a fishing village in the west of Lantau Island. Special about this village is that all houses are built on stilts. It is definitely worth a visit if you find yourself on Lantau Island.
The pink dolphins are very rare and a boat trip to these beautiful animals is a unique experience. We booked a tour for a few hours and saw a fair number of pink dolphins.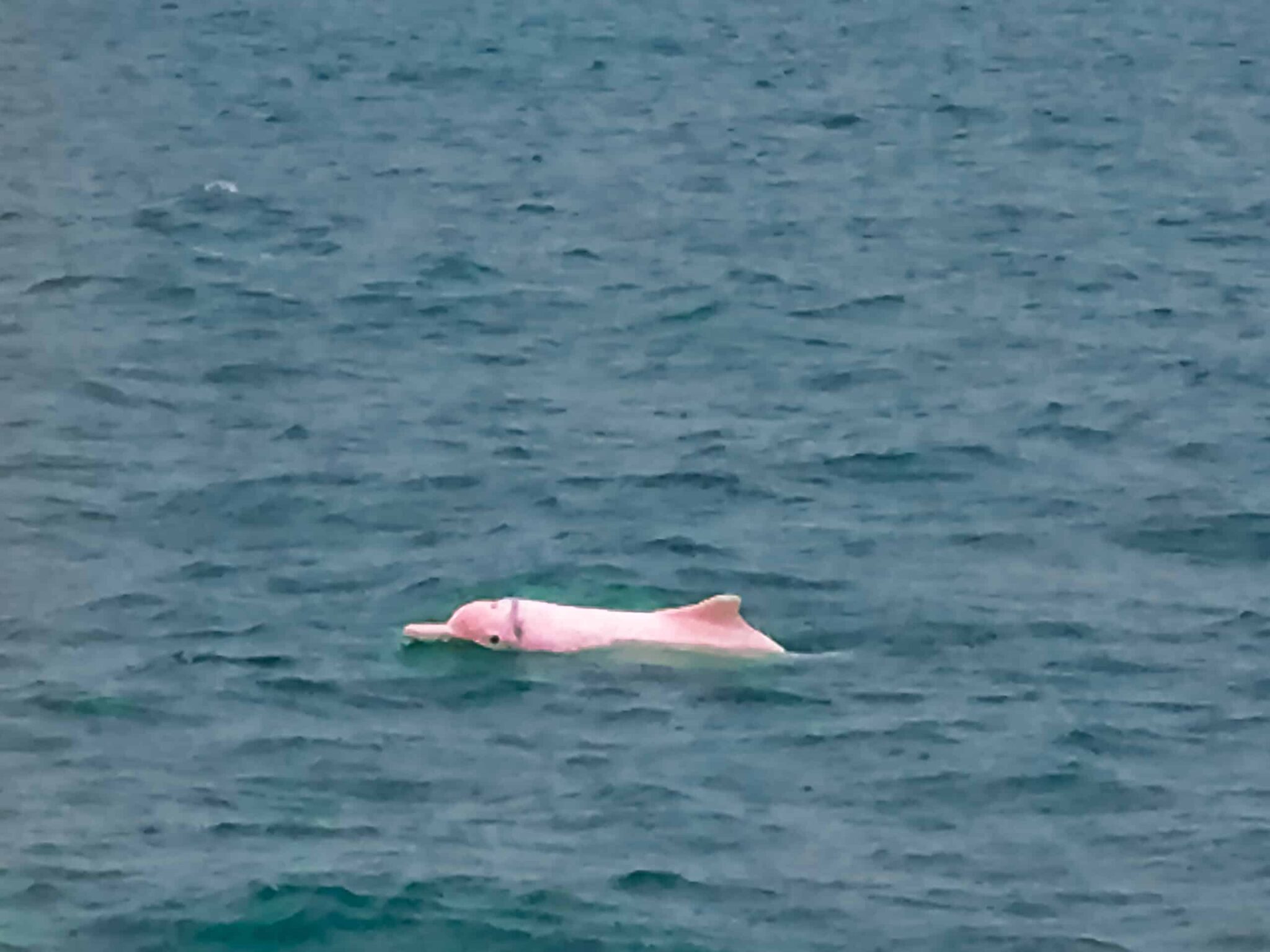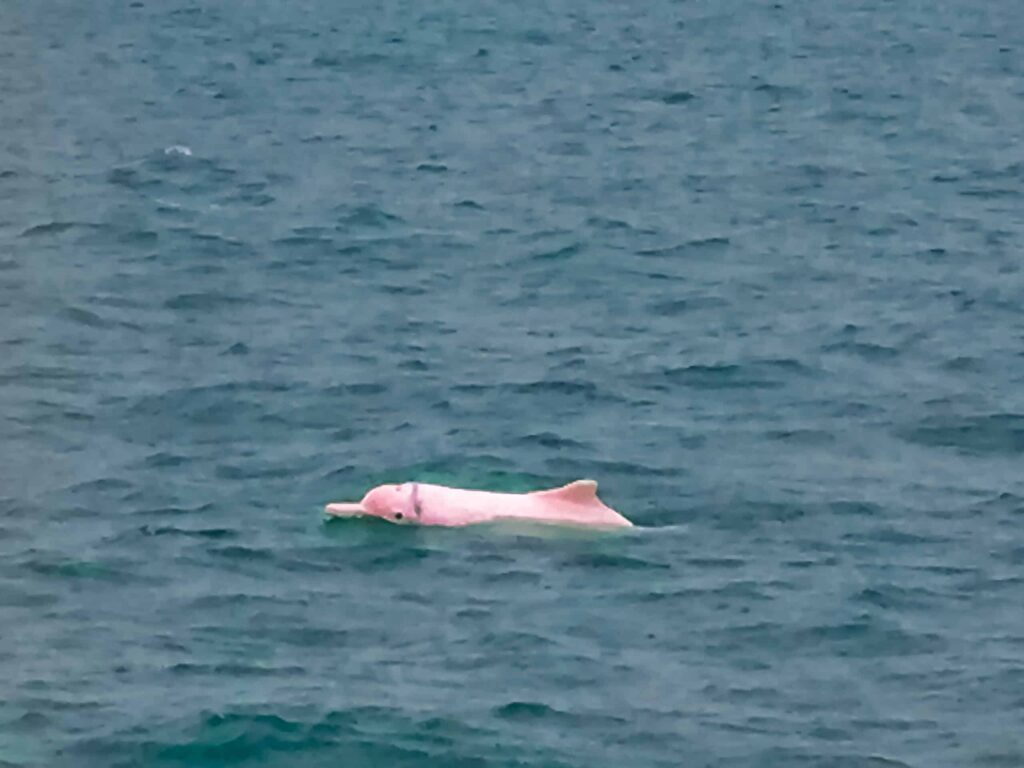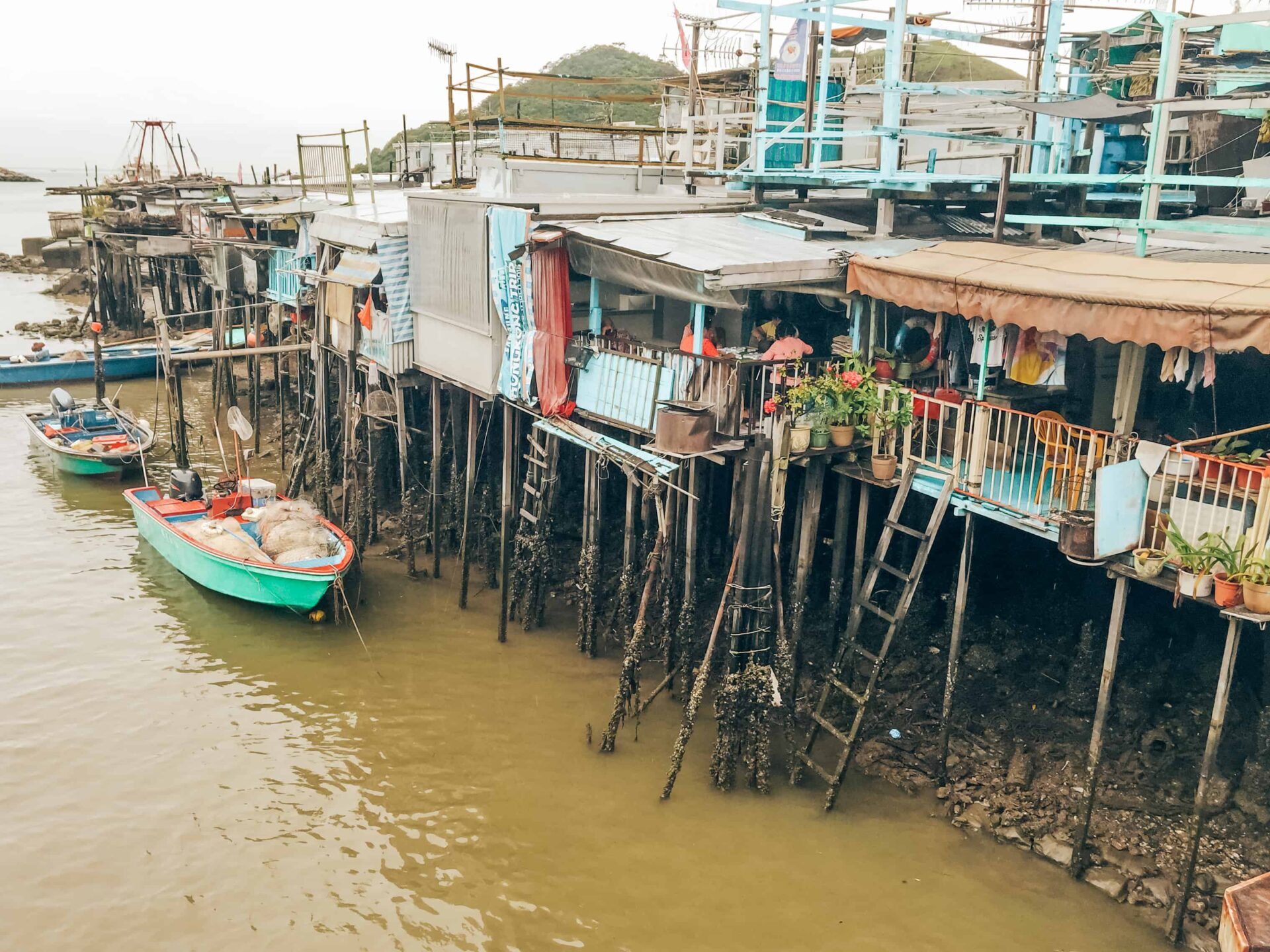 The Ten Thousand Buddhas Temple certainly lives up to its name. When you walk up the long stairs through the green forests, you actually walk past 10,000 golden statues of Buddhas. The special thing is that no Buddha is the same. The path to the temple at the top has a whopping 400 steps but is worth every stride. The monastery has a surface area of no less than eight hectares and contains a nine-story pagoda, a main temple and two pavilions. Along the stairs to the main temple you will find only male Buddhas, but when you walk further up there are only female statues, sometimes even with babies in their arms.
The monastery is only a five-minute walk from Sha Tin MTR station and admission is free.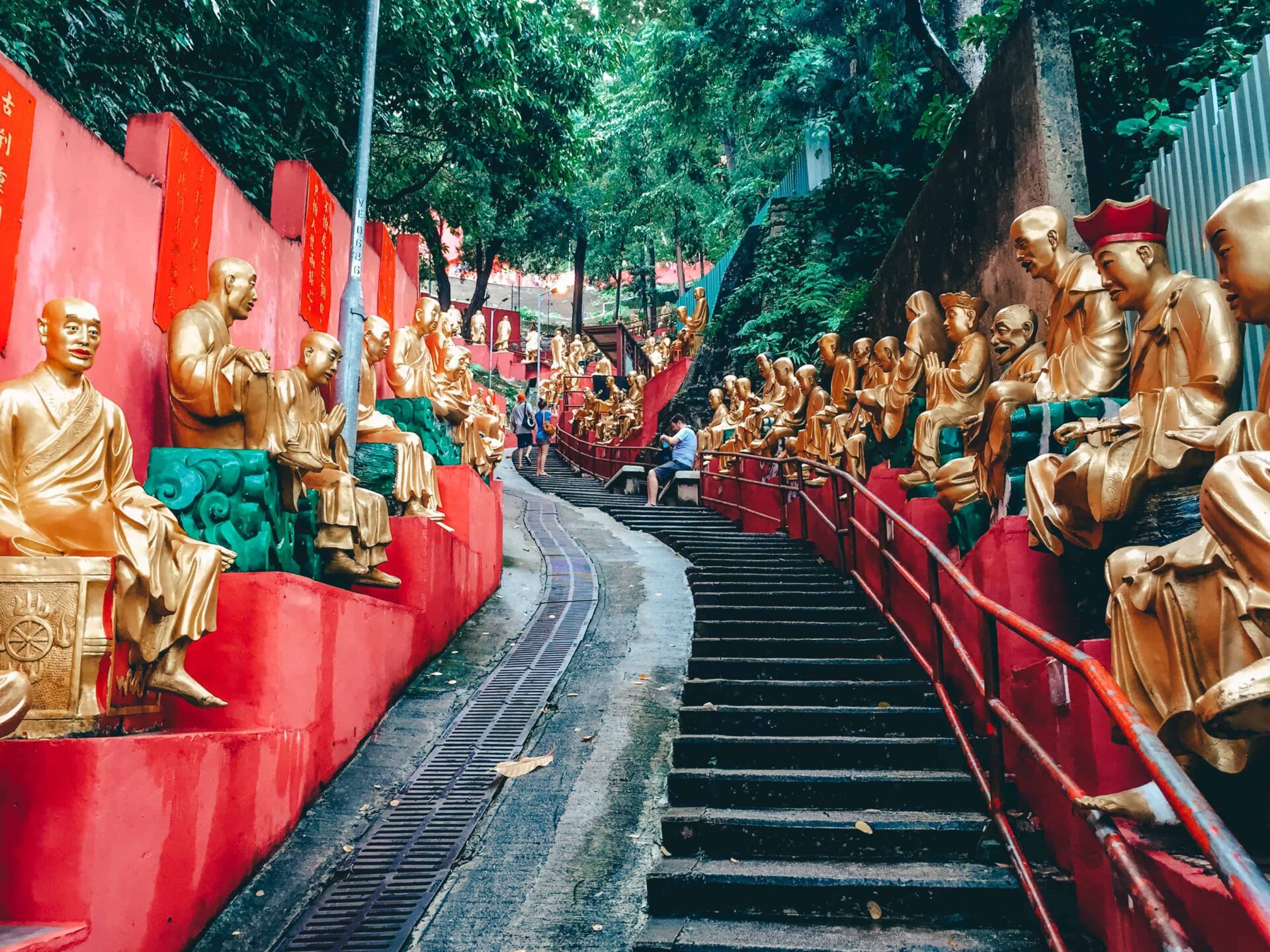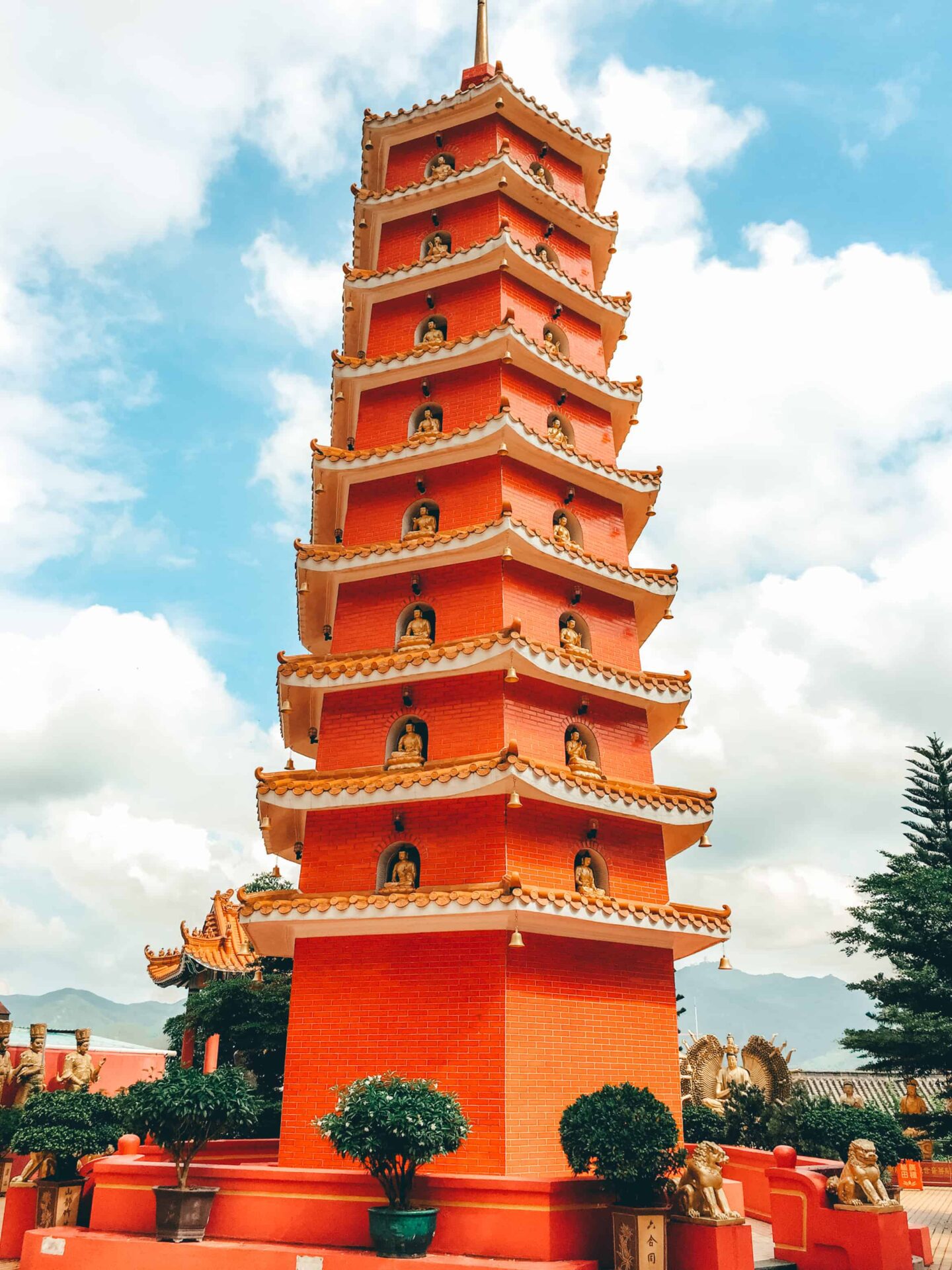 This is one of our personal favorites in Hong Kong. We therefore bought a card with which we had access for six months. Ocean Park is a combination of an amusement park, aquarium and zoo in the south of Hong Kong Island.
The park is divided into two parts, which lie on two sides of a mountain; The Waterfront and The Summit. You can take a cable car to get from one side to the other. This cable car gives you a beautiful view over large parts of Hong Kong. If you don't like the cable car, there is also a train going through the mountain. In addition, the park is divided into different themed areas and has giant pandas, sharks, penguins and exciting roller coasters.
One of our favorite attractions is the roller coaster Mine Train, during the roller coaster ride you have the most beautiful views over Hong Kong, an experience that we have not experienced anywhere else.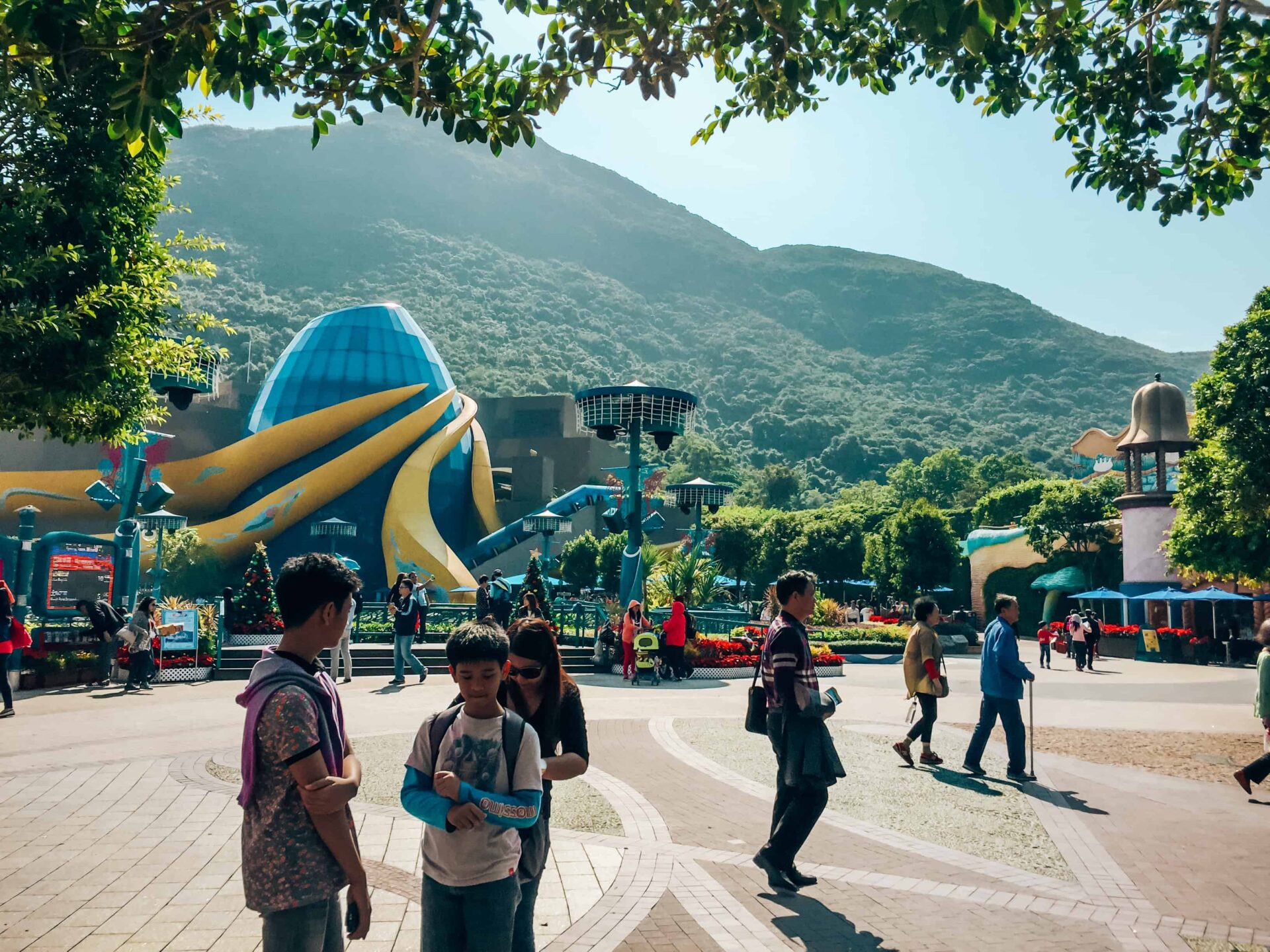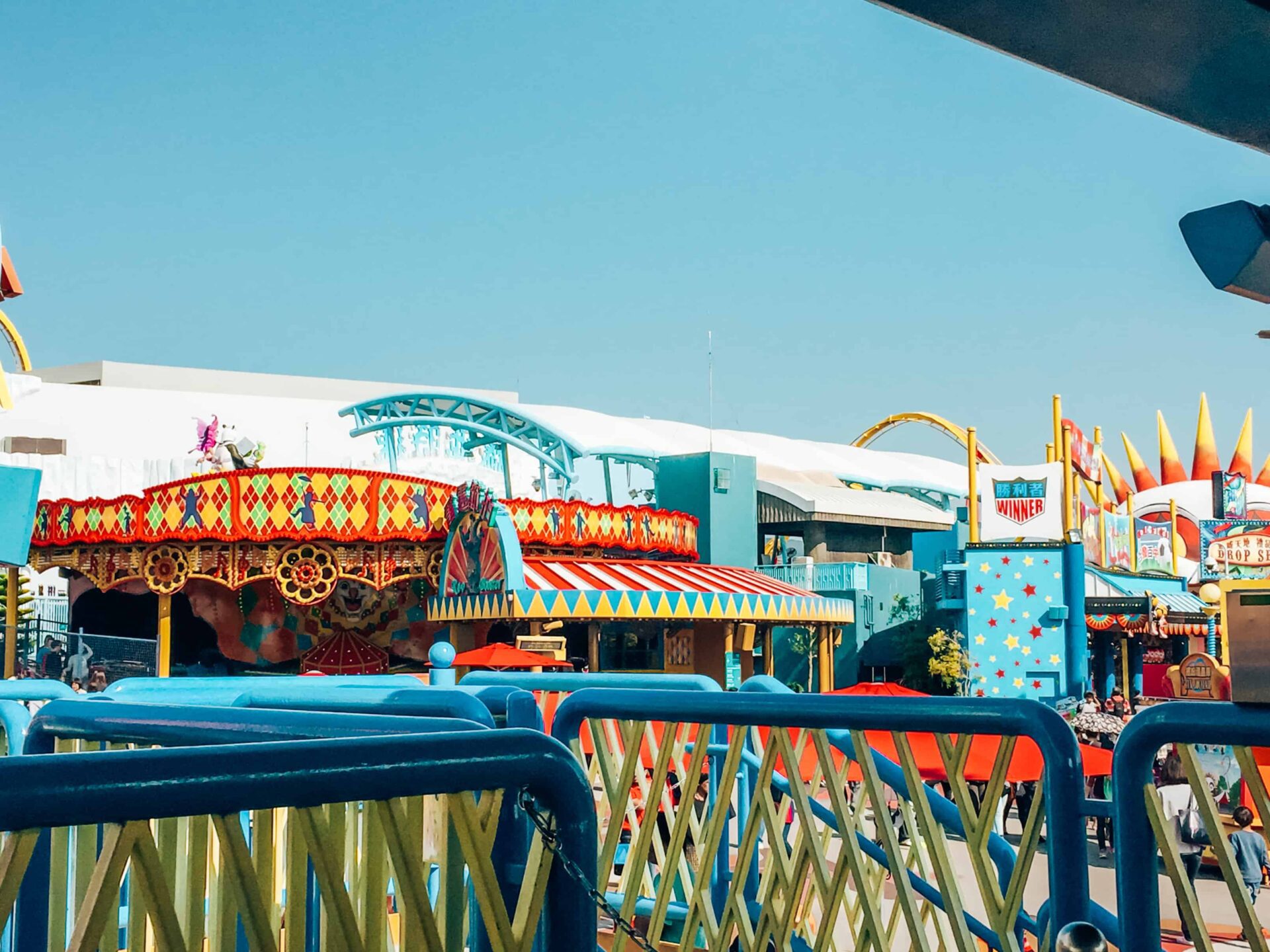 Taking a walk on the Tsim Sha Tsui Promenade is definitely a must-do in Hong Kong. From this promenade you have a great view of the skyline of Hong Kong Island full of skyscrapers. Here you will also find the Avenue of Stars which can be compared to the Walk of Fame in Hollywood. The Avenue of Stars pays tribute to great movie heroes such as Jackie Chan and Bruce Lee.
There is another very special attraction that should certainly not be missed in Hong Kong and that is The Symphony of Light. A light and sound show which can be admired every evening at 08:00 pm from the Tsim Sha Tsui Promenade. During this show, the Hong Kong Island skyline, which is always beautifully illuminated at night, becomes the setting for a real spectacle! This show is known as one of the most spectacular light shows in the world.
During the Christmas period, the entire skyline is lavishly decorated with beautiful Christmas lights and decorations. Like everything else, this is tackled on a grand scale!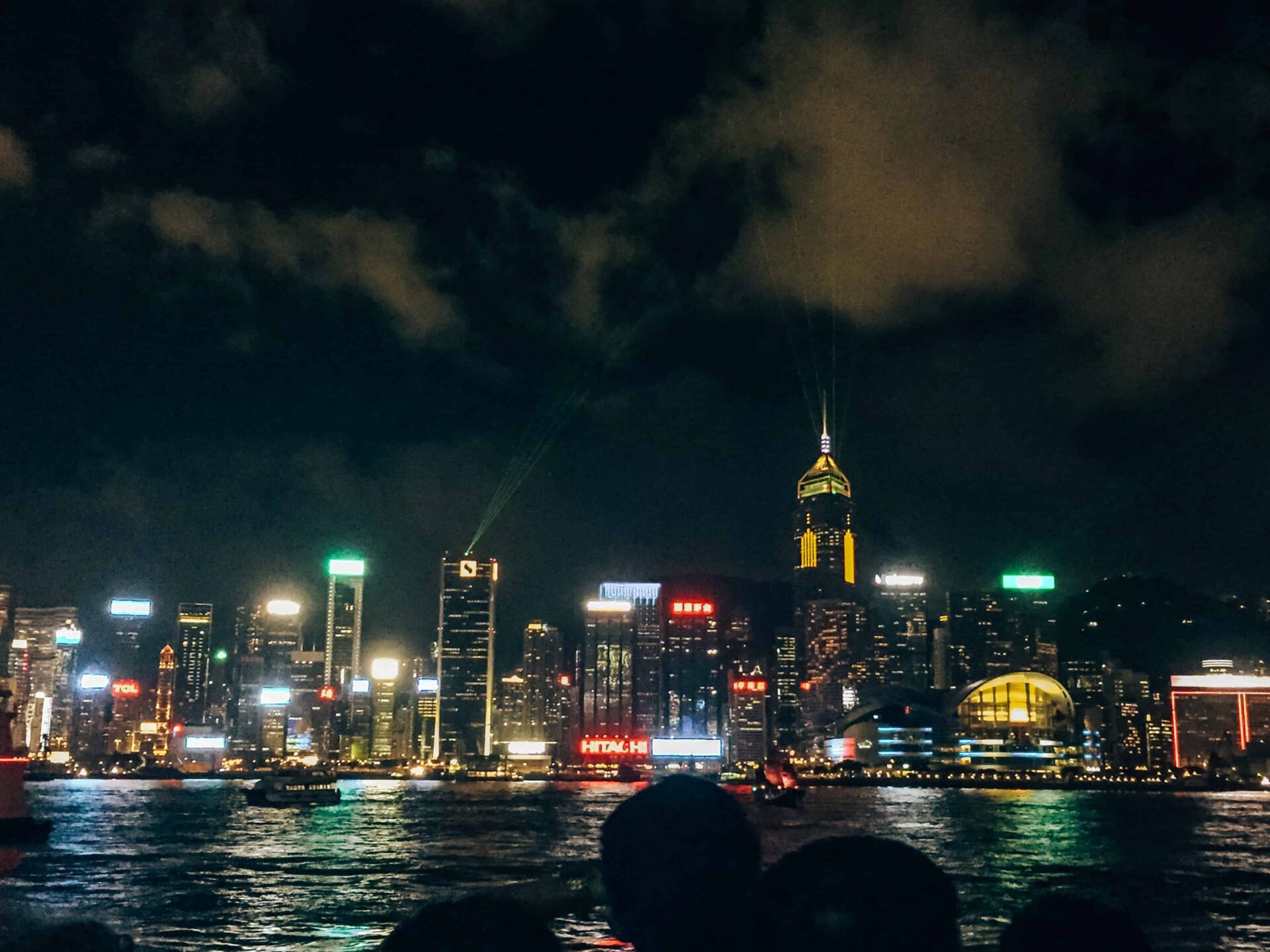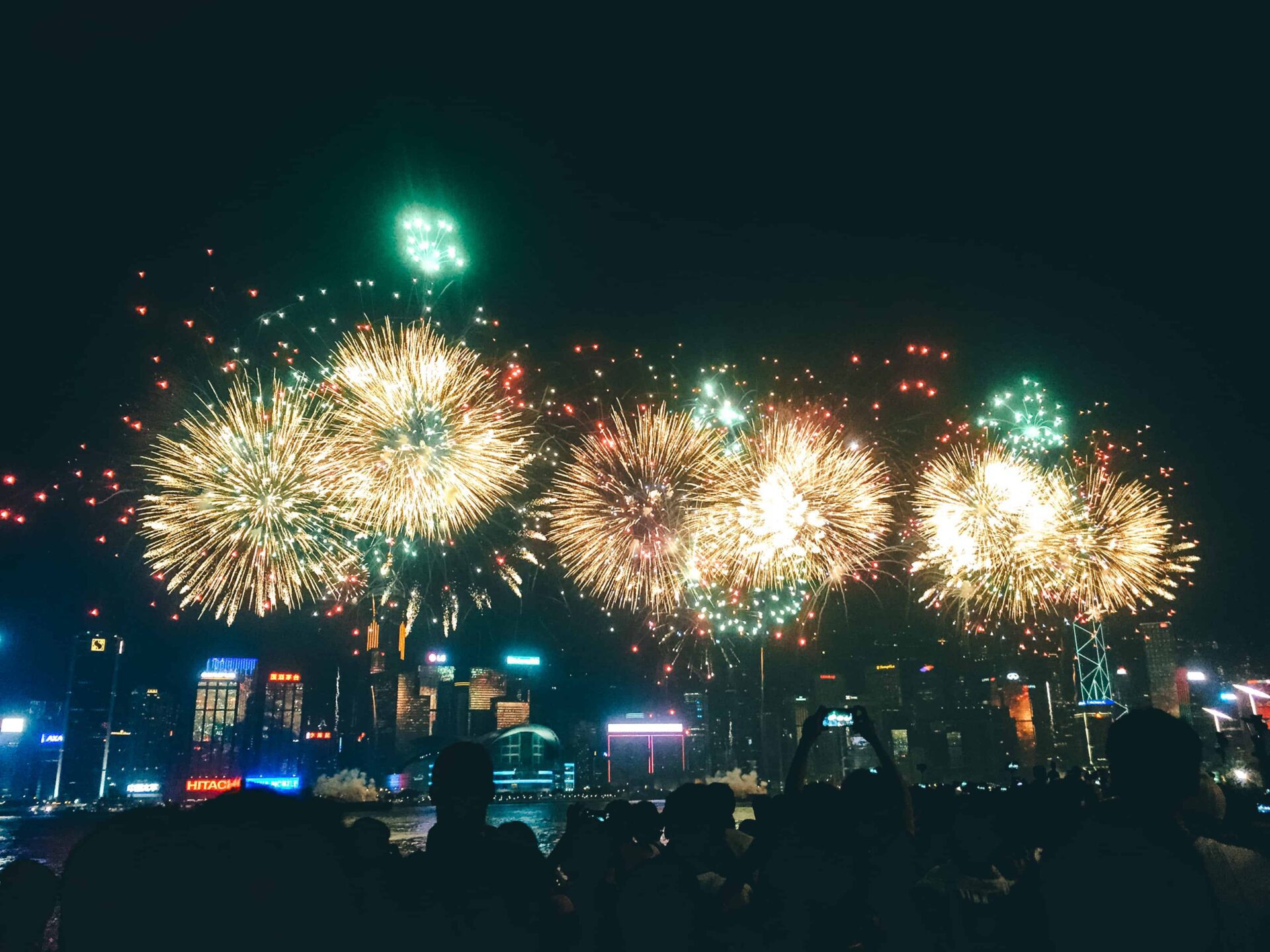 Horse racing in Happy Valley
A completely different but really fun activity to do in Hong Kong is attending horse races. Horse racing is very popular among the residents of Hong Kong, as it is the only form of gambling that is allowed in Hong Kong. An evening at Happy Valley Racecourse consists mainly of enthusiastic gambling, loud cheers and lots of beer. And all this with the skyscrapers in the background, because this racetrack is located in the middle of the city. The racing season lasts from September to June and usually takes place on Wednesday evenings. You can take a gamble on one of the horses from as little as 10 HKD and make the experience that little bit more exciting!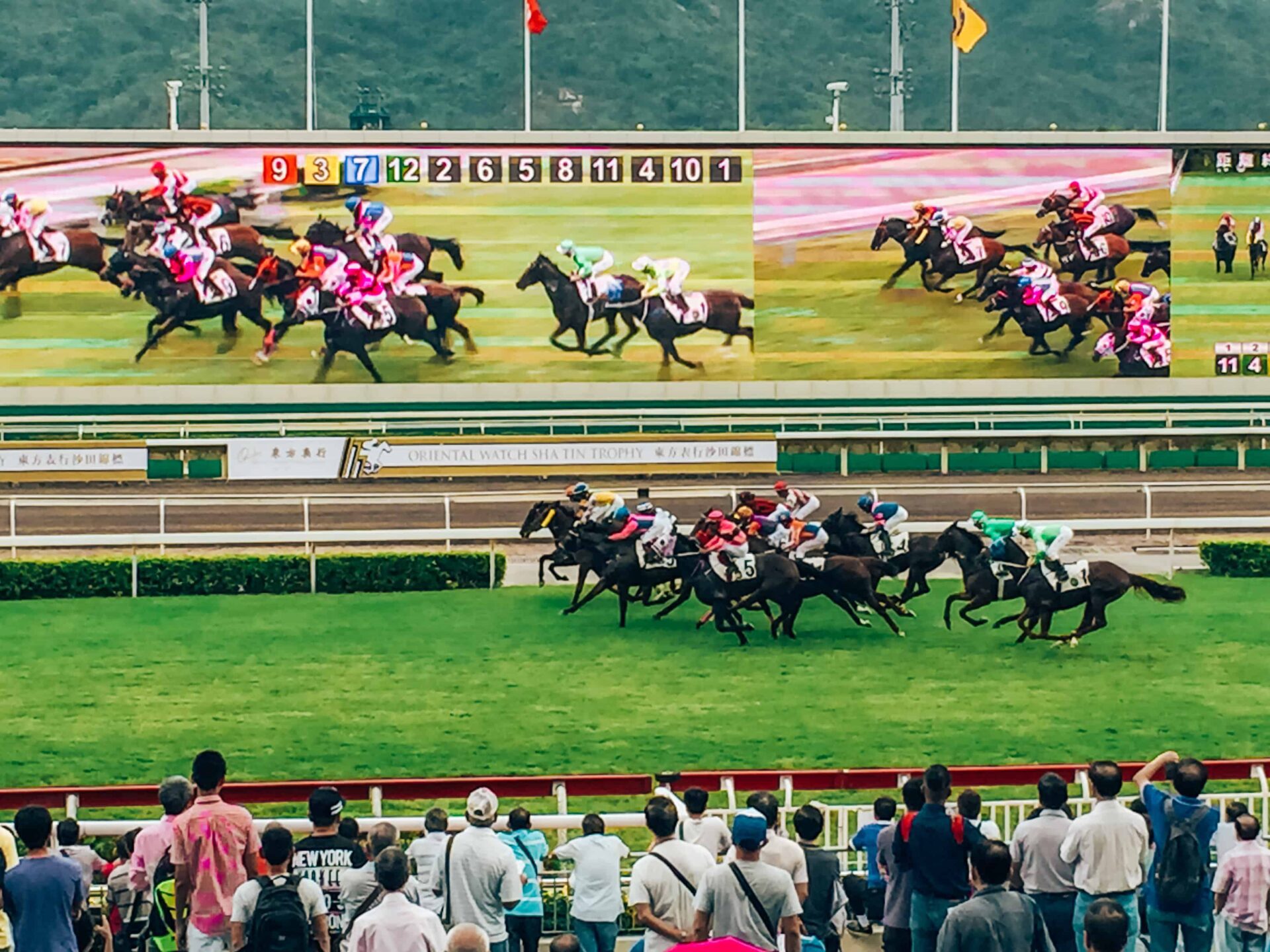 Chi Lin Nunnery and Nan Lian Garden
The Chi Lin Nunnery is an active Tang Dynasty-style Buddhist nunnery located in Diamond Hill. The monastery is built entirely of wood, even without the use of metal nails. This gives it an elegant look. The nunnery consists of several temples, a primary and secondary school.
The Nan Lian Garden is adjacent to the monastery. This is a public garden full of greenery and large ponds, also in the style of the Tang dynasty. The garden is no less than 3.5 hectares, making it the ideal place to escape the hustle and bustle of the city.
The Sky100 observation deck is located on the 100th floor of the International Commerce Center, Hong Kong's tallest building. Here you will find the most beautiful panoramic views of the city at an altitude of 393 meters. With a super-fast elevator you shoot to the hundredth floor, making the surrounding seem minuscule.
When you are here just before sunset you will have the best experience. You can experience Hong Kong with the daylight, when the buildings reach as far as you can see. And as the sun sets, the beautiful colors of the illuminated skyline appear.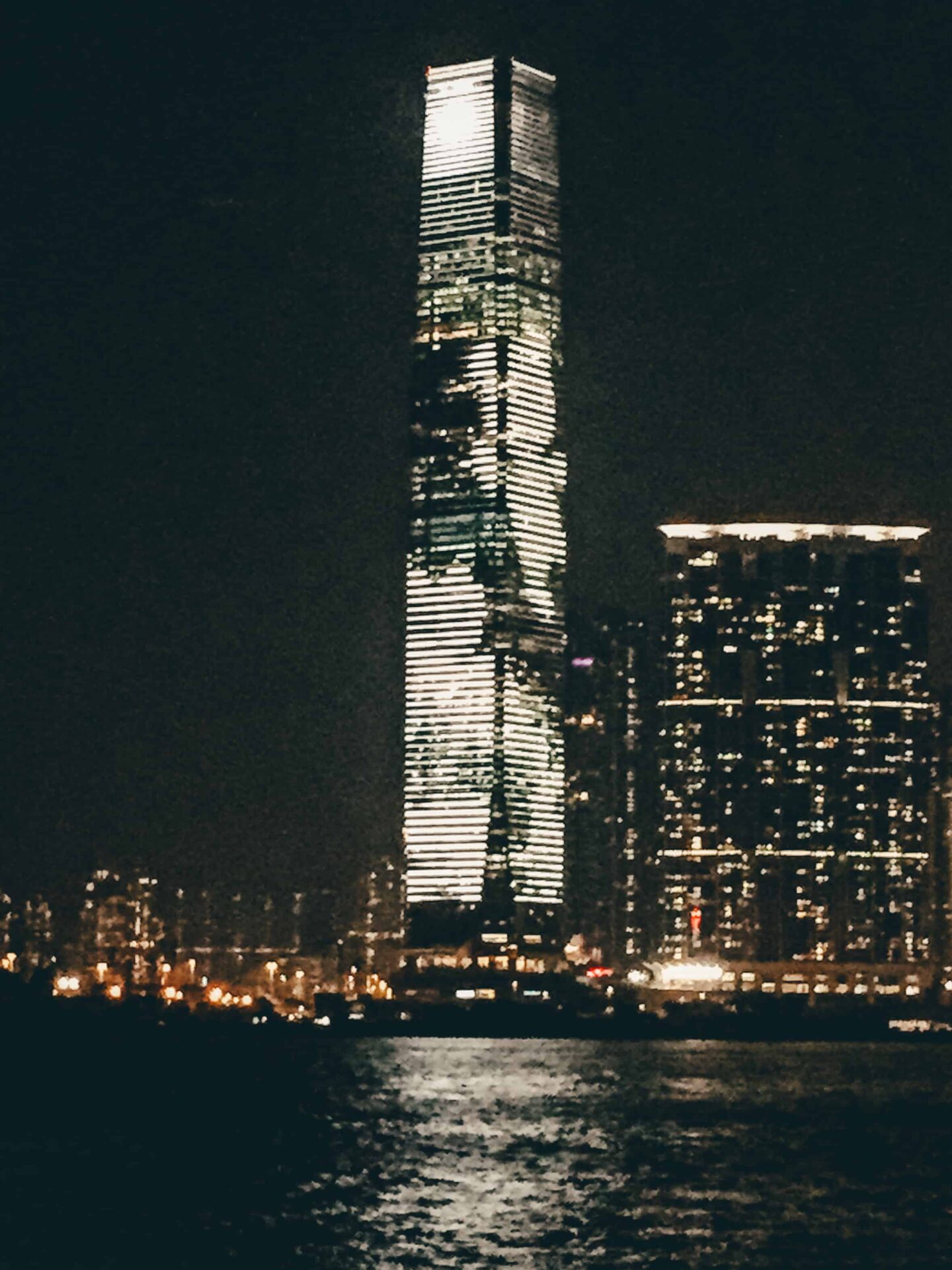 Hong Kong Island and Kowloon are separated by Victoria Harbor. Because of this, two beautiful skylines are created. There are several options for going from one side to the other, such as the MTR going under the water, and a bridge running between the two areas for cars, taxis and buses. It is of course much more fun to take the Star Ferry. Ferries leave from both banks and get across in about ten minutes. The costs for this are only a few HKD.
Another fun way to explore Hong Kong from the water is via a traditional Chinese boat, the Dukling. These beautiful boats have become an icon of the city. A tip is to take a trip on this traditional boat during the Symphony of Lights.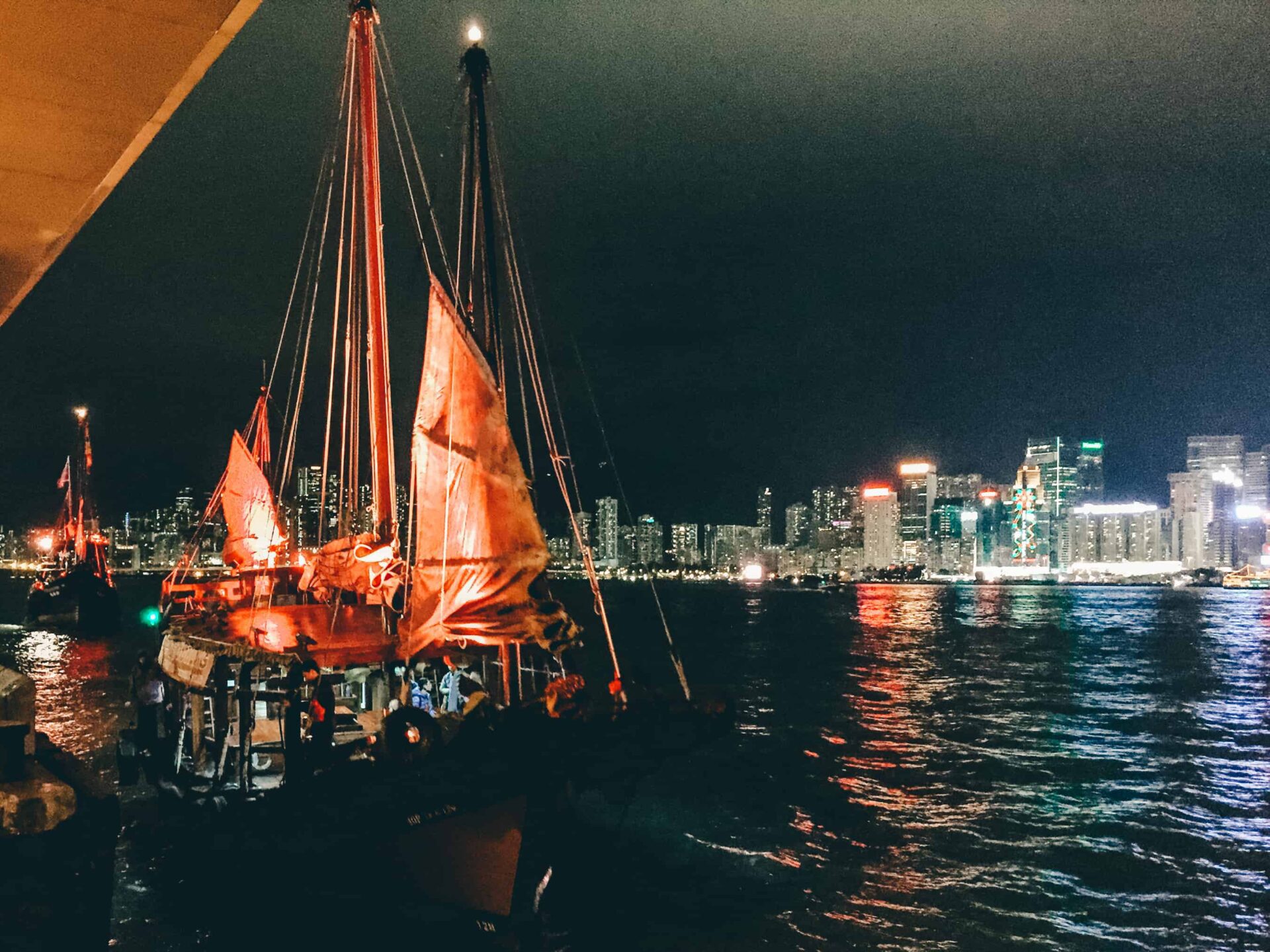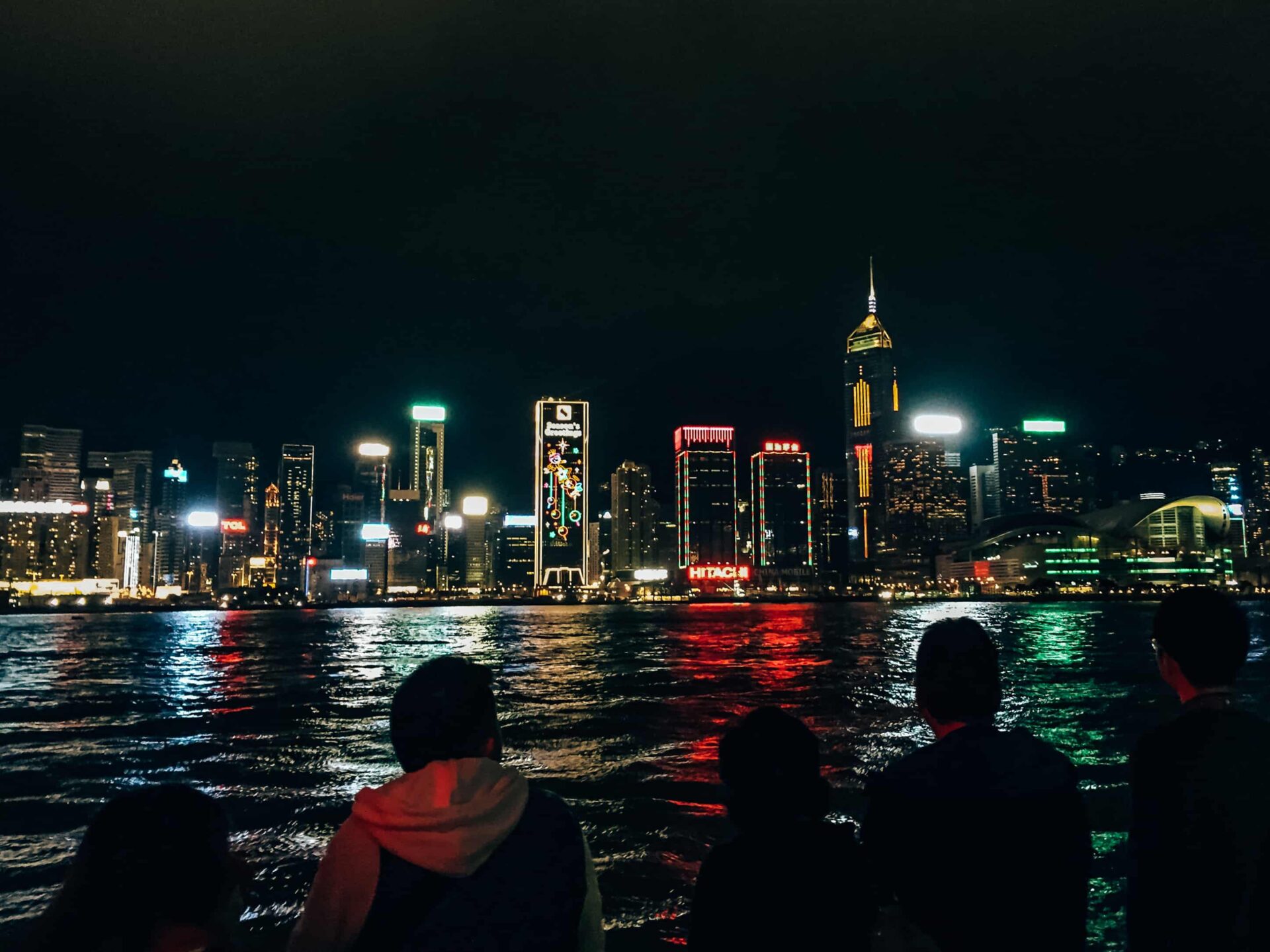 Nathan Road and Temple Street Night Market
You will be amazed during a visit to Nathan Road in the Mong Kok area. There are large signs and shops everywhere and it is always hectic. Nathan Road is mainly known for its many shops, restaurants and shopping facilities. That it is a very long street is also noticeable by the fact that there are five different metro stations in the street.
Near Nathan Road you will also find Temple Street Night Market, which is open daily from 4:00 PM. In this lively market you will mainly find many souvenirs and cheap (fake branded) electronics. Besides shops with a lot of stuff, you will also find many food stalls. It is therefore one of the best places to eat street food in Hong Kong.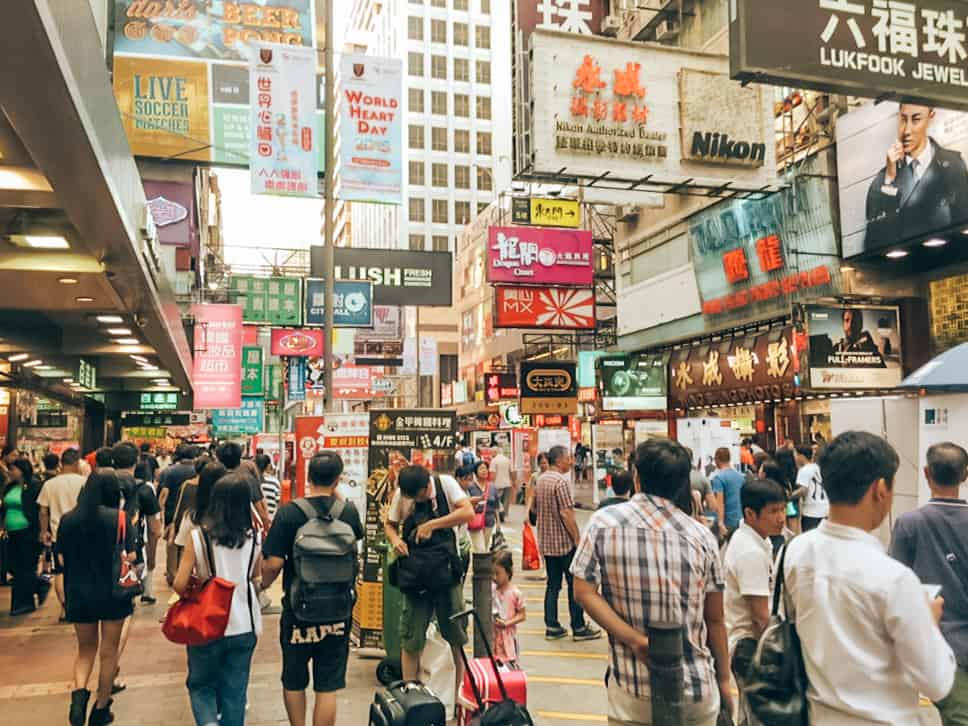 Besides the high skyscrapers and beautiful green nature, Hong Kong also has a number of beautiful beaches that are definitely worth a visit. One of the most popular beaches is Repulse Bay Beach. On this beautiful white beach there are a number of futuristic buildings, including the well-known apartment complex with a hole in the middle to make it Feng Shui. Another popular beach is Big Wave Beach in Shek O. This beach is located on the east coast of Hong Kong and is characterized by its high waves which make it a real surfing spot.
You can find them all over Hong Kong in all kinds of different places and in all different sizes, forms and shapes; temples. This is because Buddhism has an important place in the life of the Chinese. There is always a certain peace in these temples. The beautiful buildings and incense odors make you forget that you are in the middle of a busy metropolis.
Two of the most beautiful temples we have visited are the Wong Tai Sin temple and the Man Mo temple.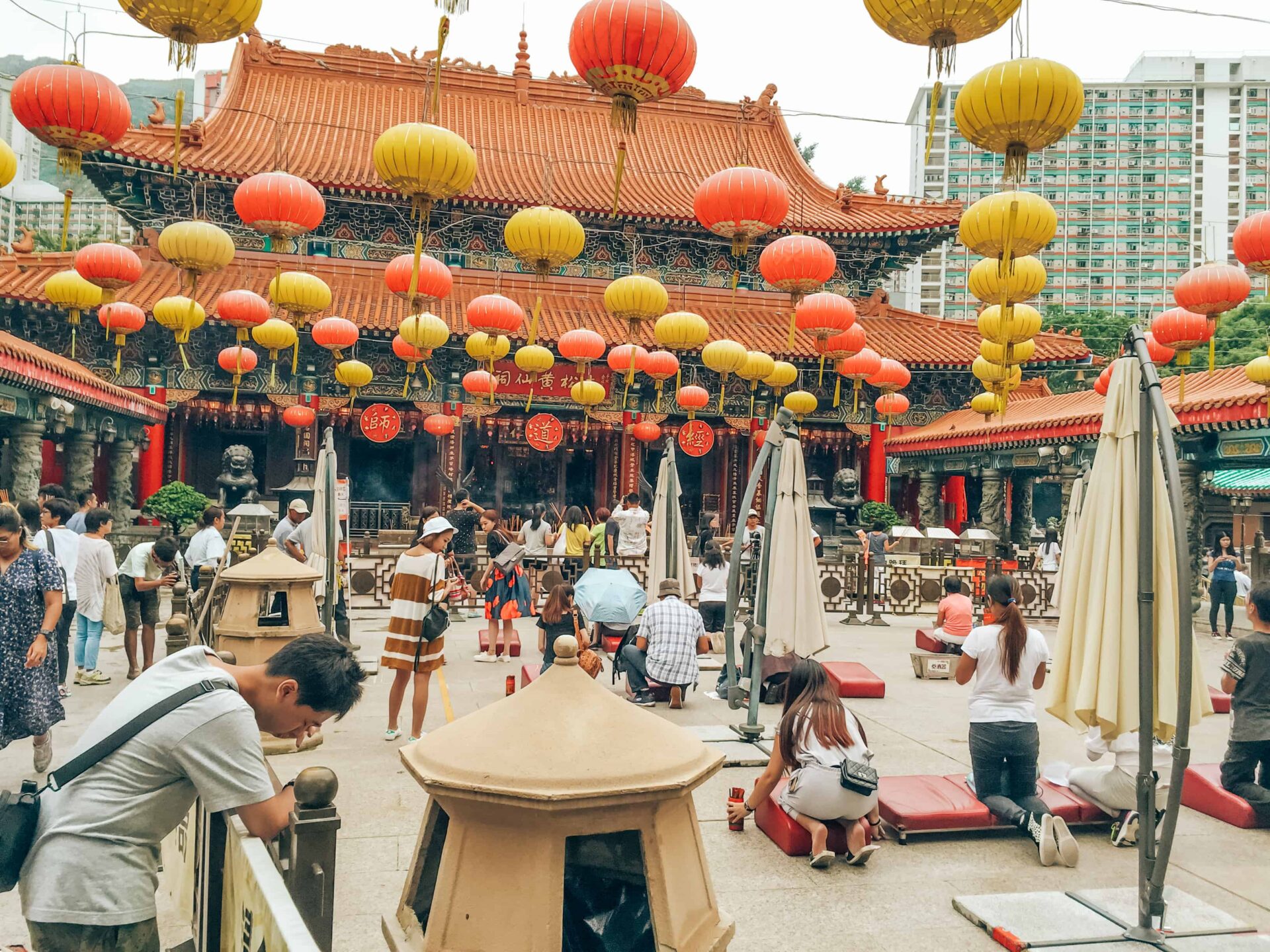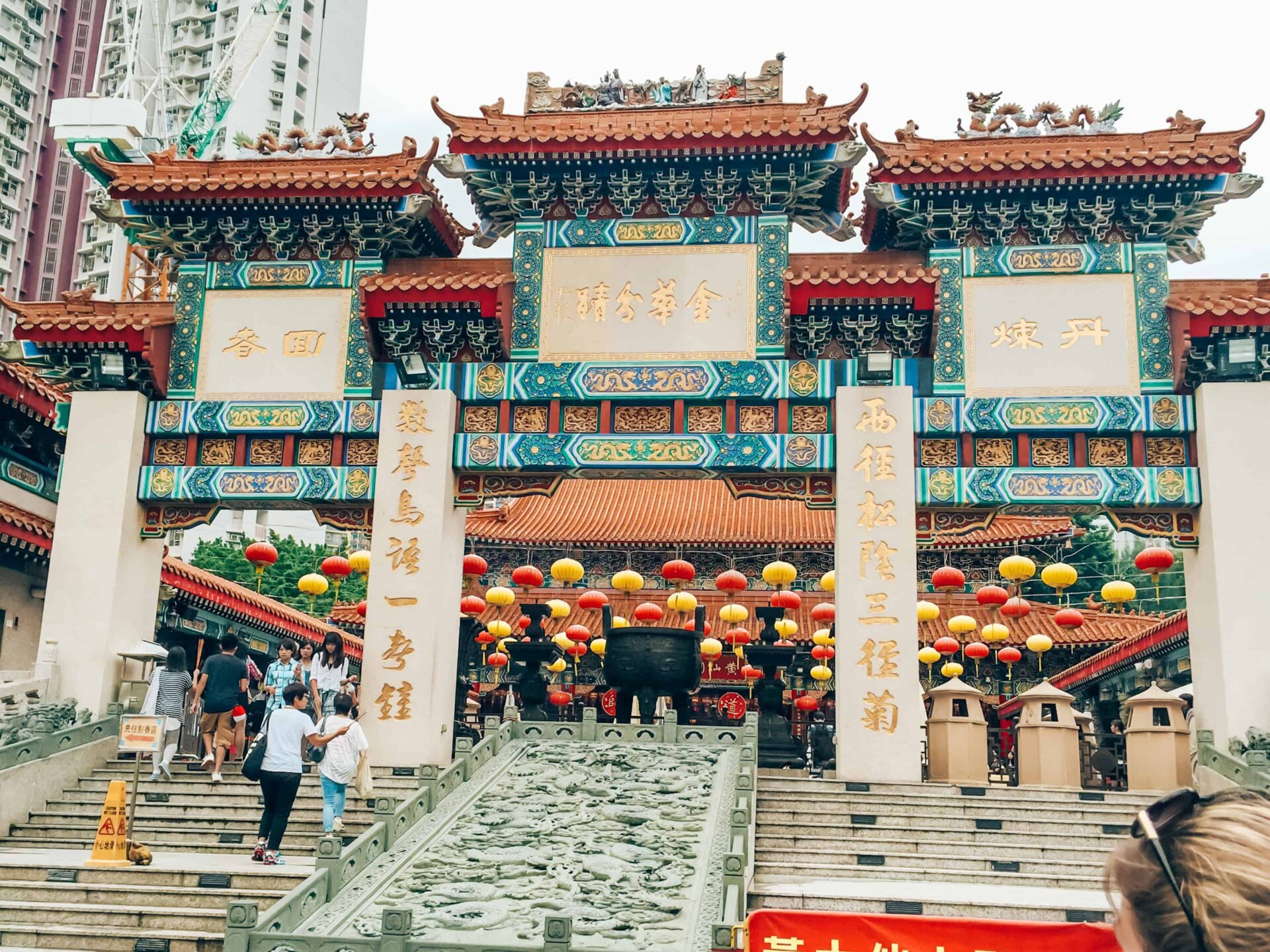 Nature and hiking in Hong Kong
Although the city is known for its hectic and futuristic skyscrapers, Hong Kong is largely made up of nature. It is therefore a shame to only stay in the city center during a visit to Hong Kong. There are many beautiful walking routes and viewpoints just outside the city or on the other islands. The Dragons Back hike and Lion Head Rock are fantastic routes. The hiking trail to Tai Long Wan beach is also really worthwhile. There are beautiful views along the way, after which you will arrive at Tai Long Wan beach from where you can take a boat back to Sai Kung.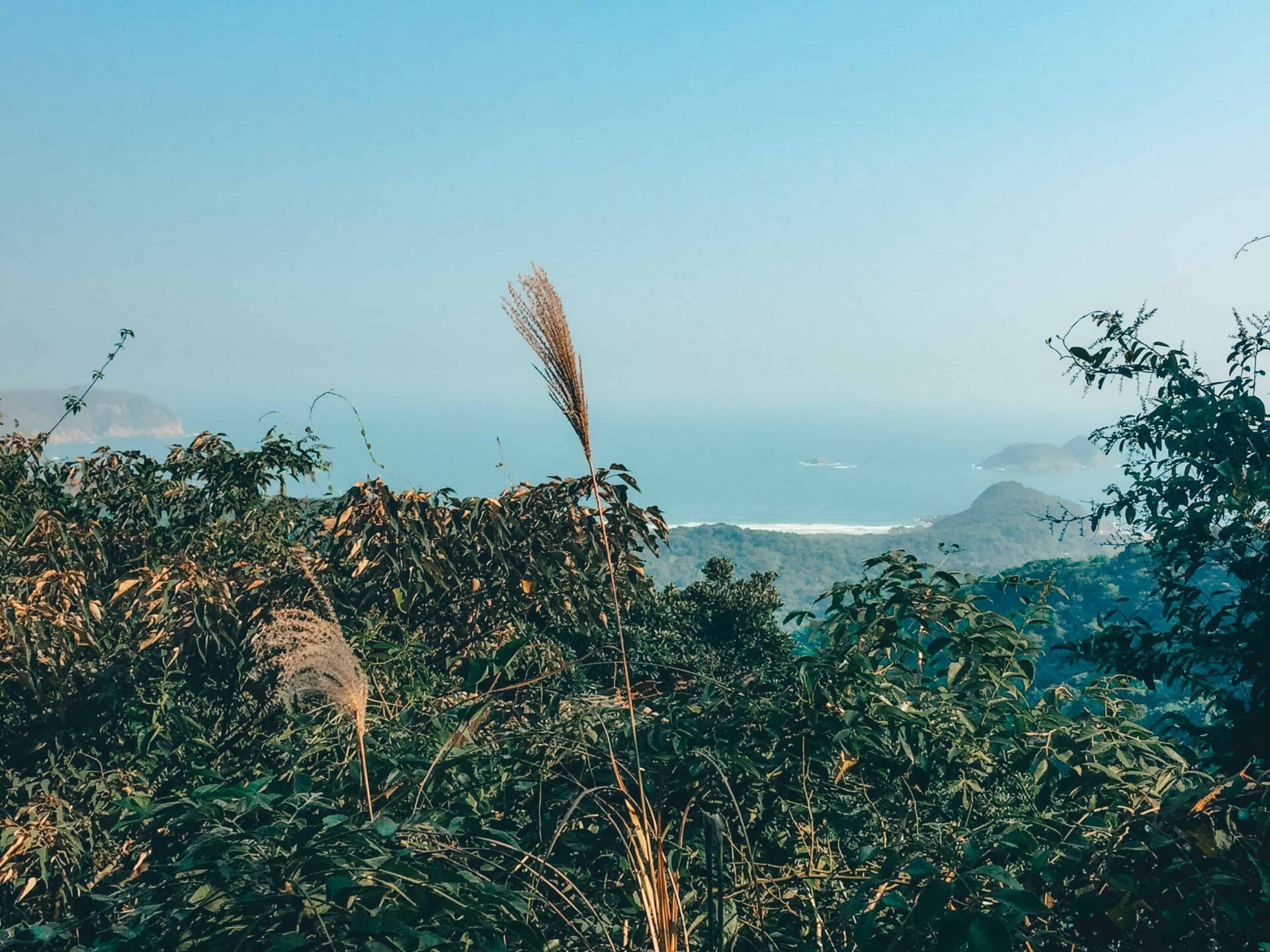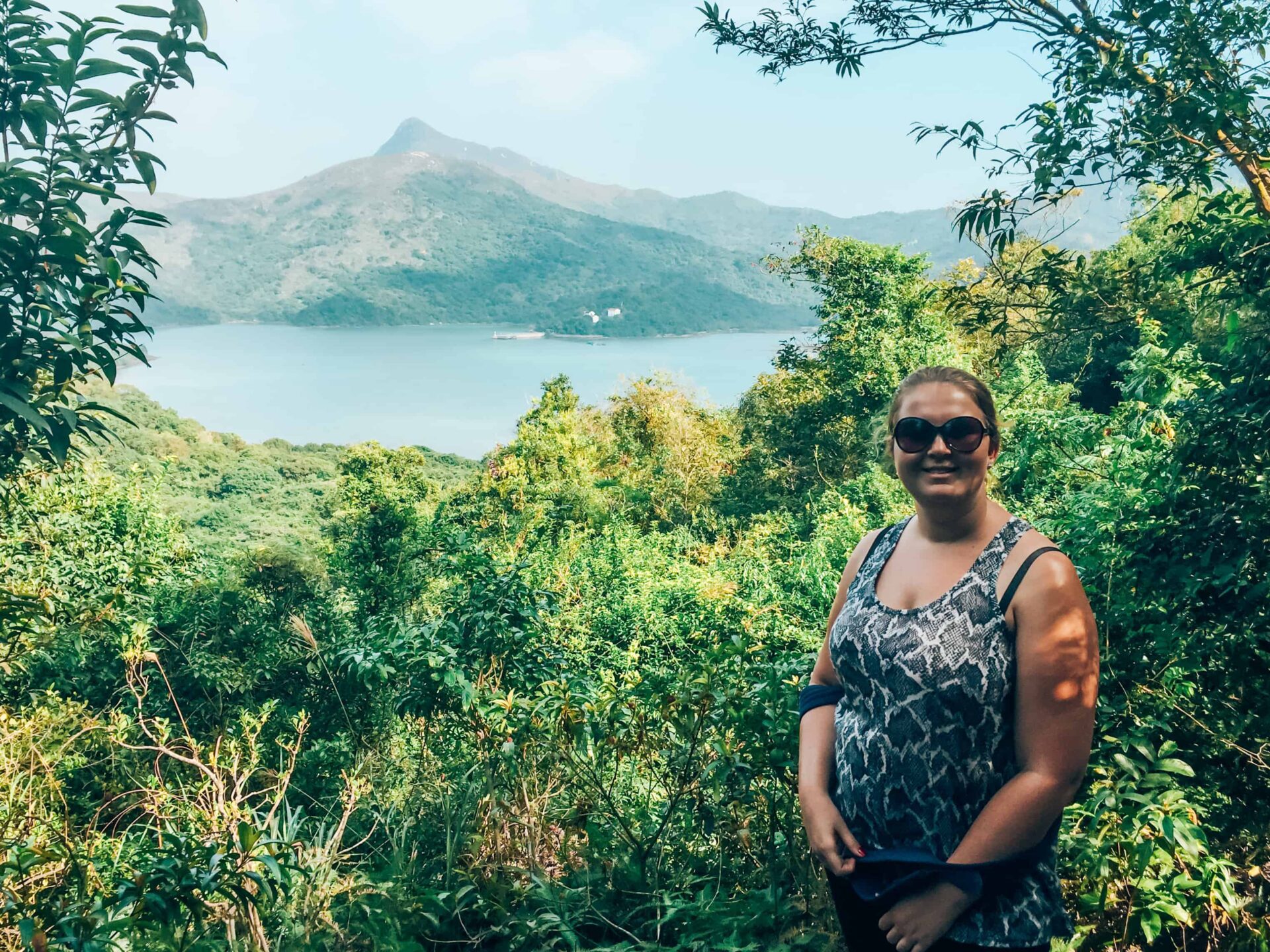 Bird Garden and Goldfish Market
It is a special experience; the Yuen Po Street Bird Garden. In this small park there are dozens of market stalls full of birds in cages. The sound of the birds is intense, but the experience is very unique.
In addition, Hong Kong also has the Goldfish Market in the center of Mong Kok. This looks like a big pet shop on the street, but unfortunately it is not very animal friendly. In these shops, hundreds of small fish swim in large illuminated tanks or hang on a wall in far too small plastic bags. A bit further down the road from Goldfish market, there are many more pet shops with, among others, dogs and cats. A strange experience for tourists but very normal for the people living in Hong Kong. We have visited these markets out of cultural interest, but did not support them by consciously not making any purchases.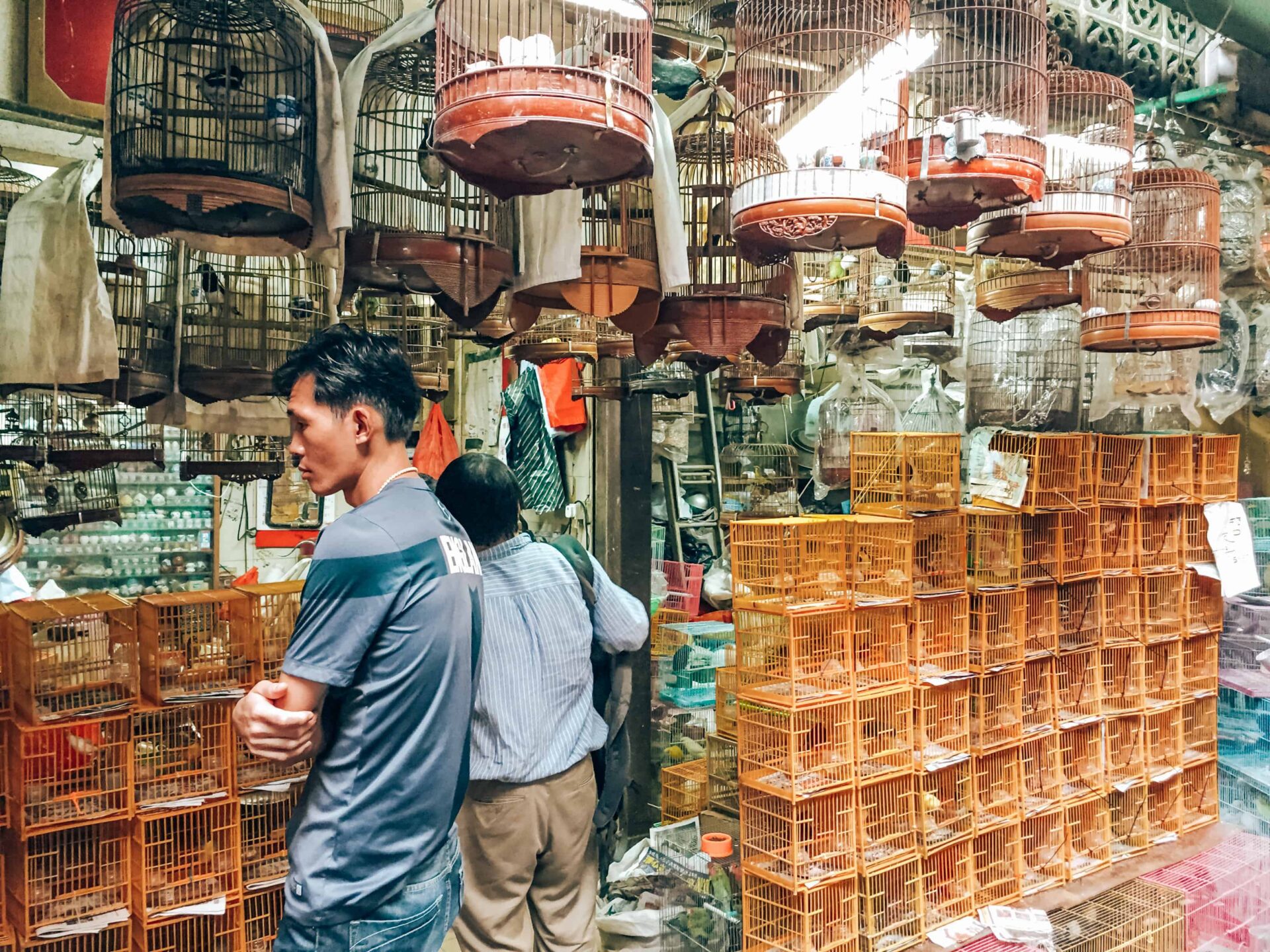 Macau, like Hong Kong, is a special administrative region of China. From Hong Kong you can be in Macau by boat in about an hour. There is a lot to discover here, such as the beautiful sights where the Portuguese atmosphere can still be experienced in the old town, but also the impressive casinos that certainly match those found in Las Vegas. Curious about all there is to do in Macau? Then read our ultimate travel guide to Macau.