On Saturday, August 15, 2015 we started the adventure that we have been preparing for six months; our trip to Hong Kong. We left for Hong Kong to live and study there for no less than five months. This series of travel blogs consists of seven parts. In this blog you can read about showering in front of the police, scented food markets, and what heat and a jetlag can do to you.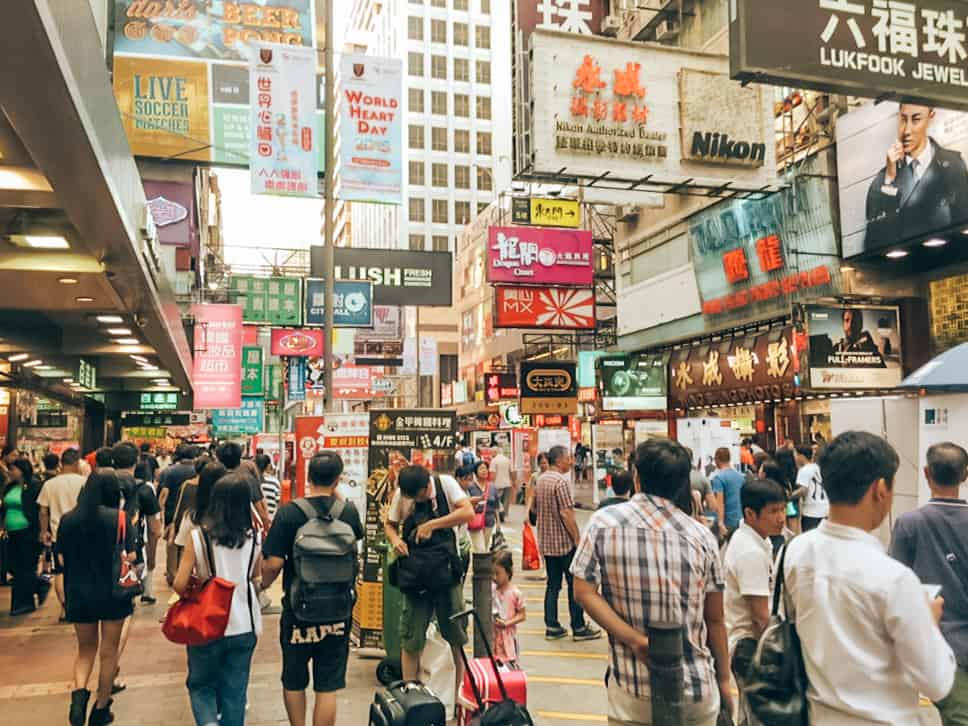 When we arrived at Schiphol, we fortunately were assisted by very nice employee of Finnair at check-in, so that our suitcases, which were eight kilos too heavy, were allowed without an additional charge. The suitcases went straight to Hong Kong while we had a 20 hour transfer in Helsinki, Finland. At first this seemed inconvenient because all our stuff was in there, but it turned out to be very handy afterwards. Now we didn't have to haul those heavy suitcases around Helsinki.
After an emotional farewell at customs, our plane left for Helsinki at 6:50 PM. After a short flight of only two hours and ten minutes we arrived. Upon arrival, we immediately walked to our hostel which was a kilometer away, where we slept well despite the low rating of other travelers. At six o'clock local time (they run one hour ahead of the Netherlands) we left by train to the center, which is about an hour away by train. We were afraid we wouldn't have enough time to really get to know the Finnish capital, because it seemed way too big for just a morning and a half afternoon.
Fortunately nothing could be further from the truth, because all sights are within walking distance of each other. We walked through the Esplanade park where there was a large market with mainly all kinds of food and visited the Helsinki Cathedral. Unexpectedly just before the start of a church service we entered the Oespenski Cathedral, which is the largest Russian Orthodox cathedral in the whole West – and Northern Europe. Here we have been amazed (neatly on a chair) at the striking customs of these believers. Think of men with golden walking sticks in purple suits with big mustaches who kiss statues and paintings. The whole thing seemed very humble to us, especially because many people with tears in their eyes made unambiguous bows and such like a kind of sect.
After about twenty minutes we slipped outside and experienced a 45 minute boat cruise. During the calm cruise almost all other sights were visible and excellent explanations were given in understandable English! After the cruise we visited the old market building where all kinds of dining establishments and sellers of meat, fish and vegetables are located. The whole is displayed in hardwood carved train compartment-like counters. In addition to kilos and kilos of different types of salmon, they also sold canned elk or canned bear meat.
After all this we walked back to the train station and went to the airport where we left for Hong Kong at 4:40 pm. At the start of the flight with Finnair we put our watch forward five hours. Which means that the time difference with the Netherlands suddenly amounted to six hours, and it was ten past nine in the evening. Therefore, during the flight we weren't tired enough to sleep through all the crying babies and turbulence. The flight itself was very pleasant, there was a wide range of films, music and games, and we got good and plenty of food and drinks. Because according to the time in Helsinki it was going to be evening, after just an hour of flying, we already got dinner. However, after that we got breakfast at Hong Kong time, where the time is five hours ahead of Finland. When we landed at 7:50 am (Hong Kong time) we straightened our clothes as much as we could, hoping to meet our contact after the immigration check; Kit-Chin.
Because the sequel requires some knowledge of the Choi family, here is a brief explanation: Alta Choi, former rocket scientist for NASA and now representative of the association for teachers in Hong Kong, is a man we spoke to in the Netherlands. He was in the Netherlands for a while with his sister and other family to attend a wedding. Alta is proficient in English and also speaks some Dutch as a result of his studies at the TU Delft in The Netherlands. However, he stayed in the Netherlands until August 20th and so his niece Kit-Chin had to pick us up from the airport. We will stay at Alta's home until the 20th, and then move for the remaining four months to his sister's house, who is currently staying with him in the Netherlands.
Okay, here we go; after the immigration check, we soon saw Kit-Chin at the arrival hall. When we had walked around the fence we got ready to shake hands and introduce ourselves. However, before it could come to that, Kit-Chin shouted: "Hello, carpark 3", pointed to a sign, and started to walk (read: run) exteremly fast. As we exited the airport, which was full of air conditioners, we ran into a wall of warm, humid air. Have you ever been to a butterfly garden in an animal park? Exactly that; stale warm sticky air of 33 degrees Celsius with a wind chill of 42 degrees Celsius. I can report that, after our 1-day walking tour in Helsinki and a skipped night, this was very tough.
Meanwhile, we were still running with two gigantic suitcases and hand luggage, chasing Kit-Chin to the parking lot where there were almost only vans. With every van we passed we looked at each other with a facial expression saying; "Not this one, right ?!". Eventually we arrived at a safe-looking van, in which we threw the suitcases onto the bags of cement already in the back. Nadia went in the back, Goort sat in front next to Kit-Chin.
Then we drove to the barrier of the parking lot where she turned out to have lost her parking ticket. After ten minutes of searching through in to say the least, a giant mess, she found it. Whilst she was apping and recording voicemessages, we were driven to Alta's house in about 45 minutes. To give her credit, she skilfully drove through the organized traffic chaos. We had breathtaking views along the way, and man-o-man what humongous bridges they have built. A really beautiful area, full of ridiculous large apartment buildings. We were amazed when gazing through the dusty windows of the van.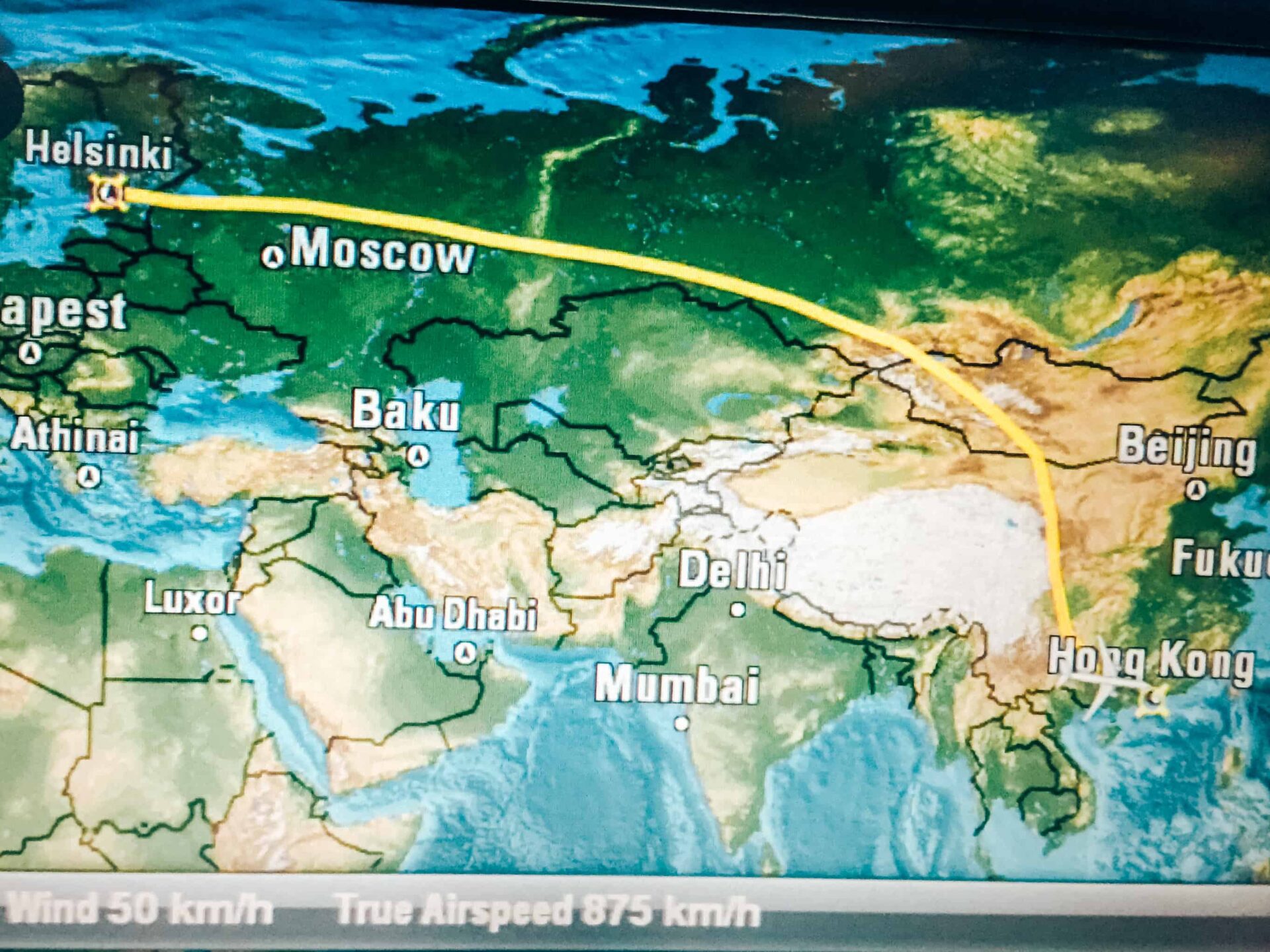 First impressions of Hong Kong
While driving, Kit-Chin gave us both an Octopus Card which – as it turned out later – already had 100 HKD on it. So Kit-Chin had already bought it for us, meanwhile we noticed she had to pay a lot of toll on the way to Alta. When we got to Alta's house we met Elma; the Filipino worker of Alta. Elma speaks English well, seems like a cheerful little woman and regularly asks some questions.
After ten minutes of sweating because it was so ridiculously hot and humid outside, we went back into the van with Kit-Chin and Elma. We were taken out to buy a SIM card, Elma explained. Well, after almost driving over a stray dog ​​and some kamikaze road users, we arrived in a kind of center of our district; Yuen Long. We were taken to a restaurant where another friend of Kit-Chin was, she had asked him to join her because he could speak English. Unfortunately, this gentleman was a little less understandable than we had hoped.
But then.. then food was ordered, and man did we struggle. With all the fatigue and abundant free food on the plane, two plates of meat, Chinese noodle soup, and a gallon of faint-tasting iced tea was way too much for us to eat. After dinner we were again not allowed to pay although we tried. Then, we ran to the SIM card shop where a month subscription with unlimited internet including 100 HKD charged simcards was bought for us. While being helped in the store, Kit-Chin left. Elma then put us in a small van full of locals for which we paid € 0.98 per person for the return trip of half an hour.
Heat and spaghetti from Elma
After our return we took a shower, which had to be done in front of a large window without a curtain or other kind of shade. It felt strange, but oh well, we didn't choose Asia as a study destination to cling to all our customs and luxuries. After a lovely shower we practiced being outside for another ten minutes. Unfortunately, we started melting again and began to see spots and chills in between sweats.
So we quickly slept for two hours midday, after which we got spaghetti from Elma. A bowl of spaghetti, a plate of meat, two plates for eating and some lettuce was placed on the table. We found it strange, however, because there were more workers, Alta's father-in-law, and Elma herself. After waiting for a while we started to eat, it tasted delicious. When we started eating Elma walked away, and when we were done we wondered whether we should clear the plates or not. Not knowing what to do, we looked around for a while and then piled the plates on the table with as much noise as possible, without breaking anything. We hoped someone would hear it, and would let us know what we should do. This did not happen.
When we got up and grabbed the plates to take them to the kitchen, Alta's father-in-law motioned that we should not do this. So then we left everything and walked upstairs to our room where Elma asked if we were ready so she could clean up.
Then, we immediately fell into a coma with the intention to not wake up before we were fully recharged. It was therefore annoying when we woke up at night – still comatose, but this time from the heat. The air conditioning was clearly set to warm, so we programmed it as a walk-in fridge.
The second day in Hong Kong
The next morning we woke up fine, still tired, but feeling a thousand times better. In the morning we found a van to go to the center of Yuen Long ourselves for the first time. We had one mission there; buy towels, pens and paper notebooks. As can be seen in the pictures, it is not very difficult to find a shop or stand there, however they seemed to sell everything except what we were looking for. After a lot of walking around and a lot of bottles of water, we bought two towels somewhere, of which we are still not sure whether they are actually blankets or towels.
During our search we visited a market where our nose hairs curled. All kinds of poultry, meat, fish and clothing hooked together or on shelves with 41 degrees Celsius, imagine that odor. The fish are kept alive (sort of) for sale, which results in many fish struggling for breath with their bellies up. Is that cruel? I'm not too sure if we in the west take better care of our food, we probably hide it better from the public. In any case, here it is perfectly normal.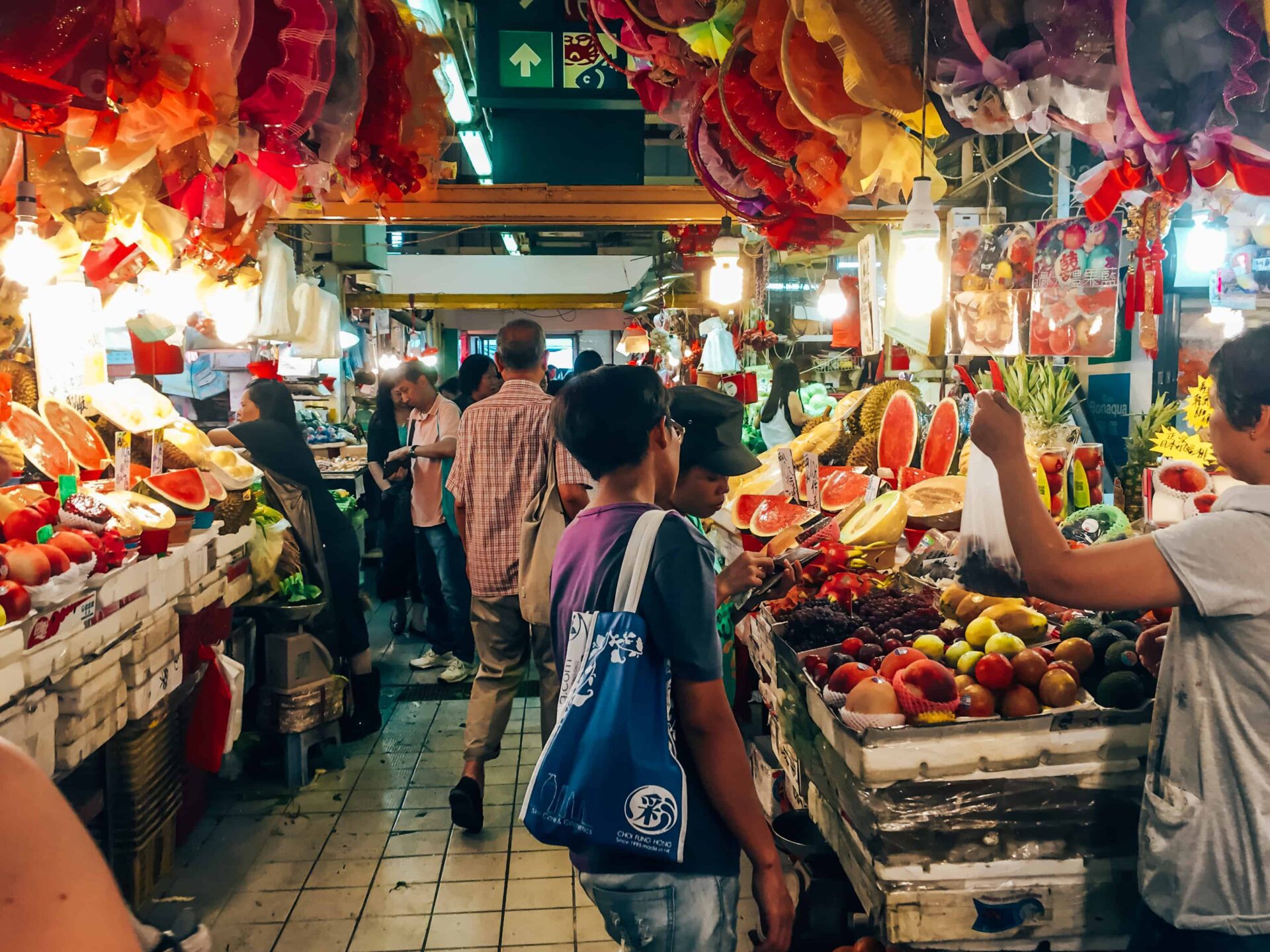 City University of Hong Kong
After we brought our towels back home to Alta, we went looking for the City University of Hong Kong, where Goort will be attending college from Monday onwards. The bus and train services scheme is quite simple, and every line actually has a bus or train every ten minutes. We should also mention that despite the amount of people everything is very clean, which is also very strictly enforced. Nobody throws anything on the floor and cigarette butts go into the ashtrays on top of the bins. This makes the city look and smell clean and fresh, except for the markets.
Once we arrived at City University, we looked for the building where the office of the faculty that Goort will attend, the College of business, is located. After the visit to Goort's university which consists of several buildings, restaurants, sports centers and a swimming pool, we went to Tsim Sha Tsui where the famous Avenue of Stars and the famous Hong Kong skyline are located. The Avenue of Stars is sort of an Asian version of Hollywood's Walk of Fame. The skyline is very impressive during the day, but it looks completely magical at night. Every day at 8:00 PM a light show called "The Symphony of Lights" is displayed on the tallest buildings. We watched these with great pleasure after visiting a chic pizzeria.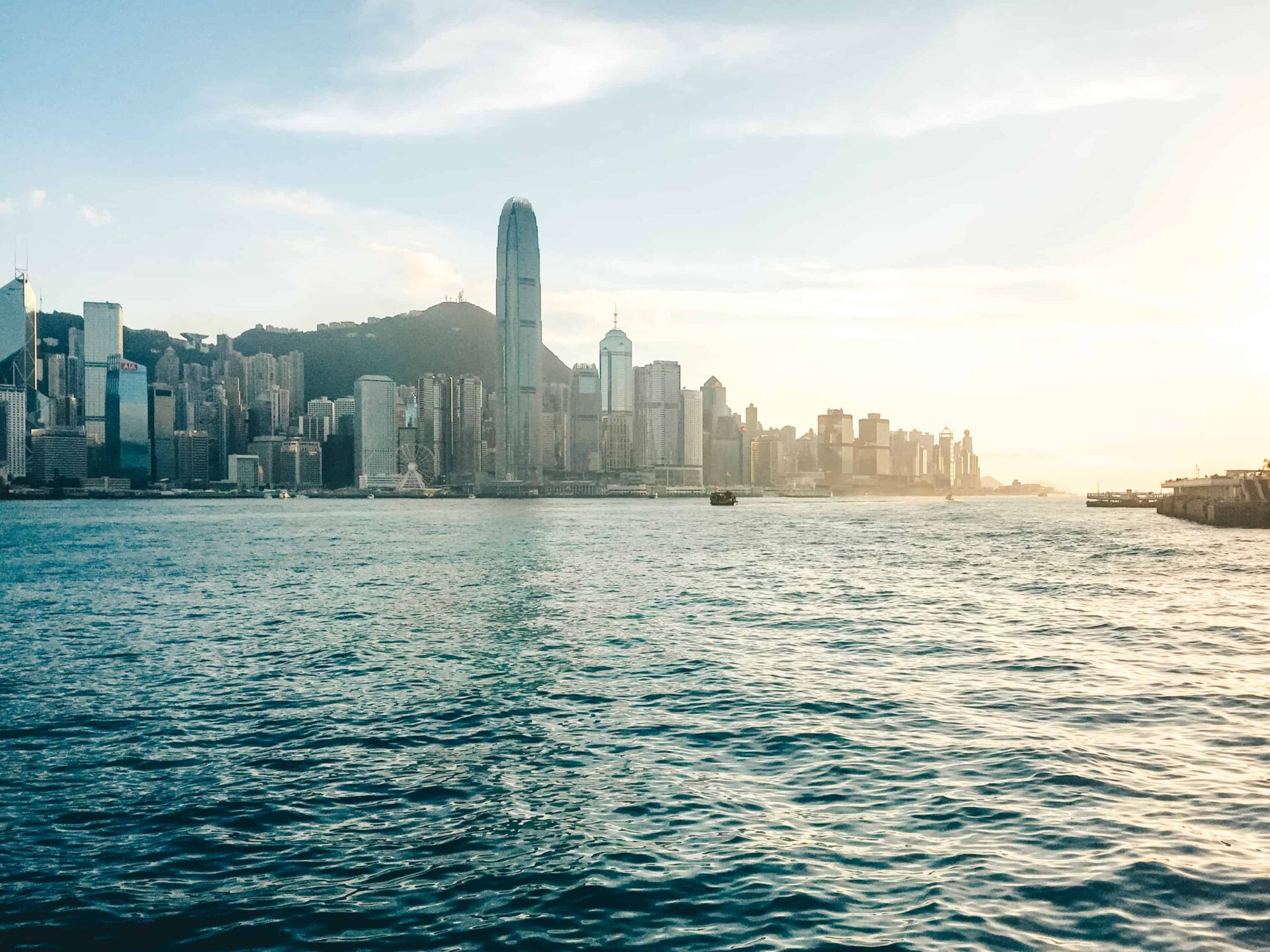 The next morning we had a "you can't be serious!" experience. When we woke up Goort was the first to take a shower, of course again in front of that not shaded window. It remains a bit uncomfortable but since they have a large garden and you never see people from the other buildings, it still feels fairly anonymous. Just when I had soaped my hair, and I looked through the window again to check if nobody was really peeping, I saw about 5 armed officers walking through the garden. As you can imagine, I kept looking outside, literally with my hands in my (soaped) hair. At such a moment a lot can go through your mind; surely there is nothing wrong with the address where we are staying.. right?.
At the same time, one of the officers turns and looks straight at me. Uncomfortable. Very uncomfortable. Then the officer in question happily walked on as if there wasn't a soaped-up wet white young man standing in front of a window. After we had both showered, Elma knocked on the door and asked if we were missing anything, it turned out that there had been a burglary at night. Fortunately, we missed nothing, and we hadn't noticed anything. Gonggong, which means grandpa here, sleeps on the ground floor and is now missing one phone and one wallet. When we asked if that happens often, Elma replied; "I don't know".
After a while Elma asked if we wanted something to eat, and prepared some toasted bread and fried chicken wings for us; a lot of meat is eaten here at every meal. When we were halfway through the meal, the food she had prepared for herself and the other workers was ready, so we thought they would join us and we would enjoy breakfast together. This as however not the case. When we left the table, Elma cleared the table, after which the Filipino workers went to eat at another table.
Chinese University of Hong Kong
After our lunch we traveled to the campus of the Chinese University of Hong Kong, where Nadia will be attending lectures this semester. What a huge campus. In terms of surface area, we think this is comparable to Sint-Annaland, the small village in the Dutch province Zeeland where Nadia grew up. There are dozens of free buses to transport students and professors from building to building. Which is very nice when you see the enormous amount of gigantic apartment buildings and the height differences on the campus.
After a free bus tour of the campus, we boarded the train station of the Chinese University and headed for the famous Tai Po Market. There we visited the market building and found that we had not yet gotten used to the scent mix. There too many chickens in cages, fish in containers, squid on ice, pig's head on a hook and herbs in pots. The government food safety vans that are parked in front of the market buildings are not really reassuring, which to us came across as a recommendation to buy food only from trusted and hygienic supermarket stores (hence not from the Tai Po Market). The fact that there are cats walking in-between and literally over the fresh produce does do wonders for the image of this market either.
After visiting the market we went back to the house of Alta in the double-decker bus. The buses seem to drive downhill at approximately 60 km/h on much too narrow mountain roads, and almost come to a stop when they crawl up the steep hills at 4 km/h. As a couple of adventurers we could laugh about it, but I must confess that we were the only ones on the bus that were wearing the mandatory seat belts.
Once we arrived home, we started on this utterly fantastic first travelogue – which yearns for an equally exciting follow-up – which automatically also means that we have arrived at the end of this first edition.