Sweden is the largest country in Scandinavia and spans different climates. The country has beautiful nature, fascinating landscapes and adventurous wildernesses. In addition to the many lakes and large forests, Sweden also has cities with a lot of history and culture, such as Stockholm and Gothenburg. Swedish Lapland, in the far north of Sweden, is mainly characterized by the cold, snowy mountains and beautiful nature. We visited Swedish Lapland in November, and traveled to Lulea, Kiruna and Harads in 9 days.
Itinerary Swedish Lapland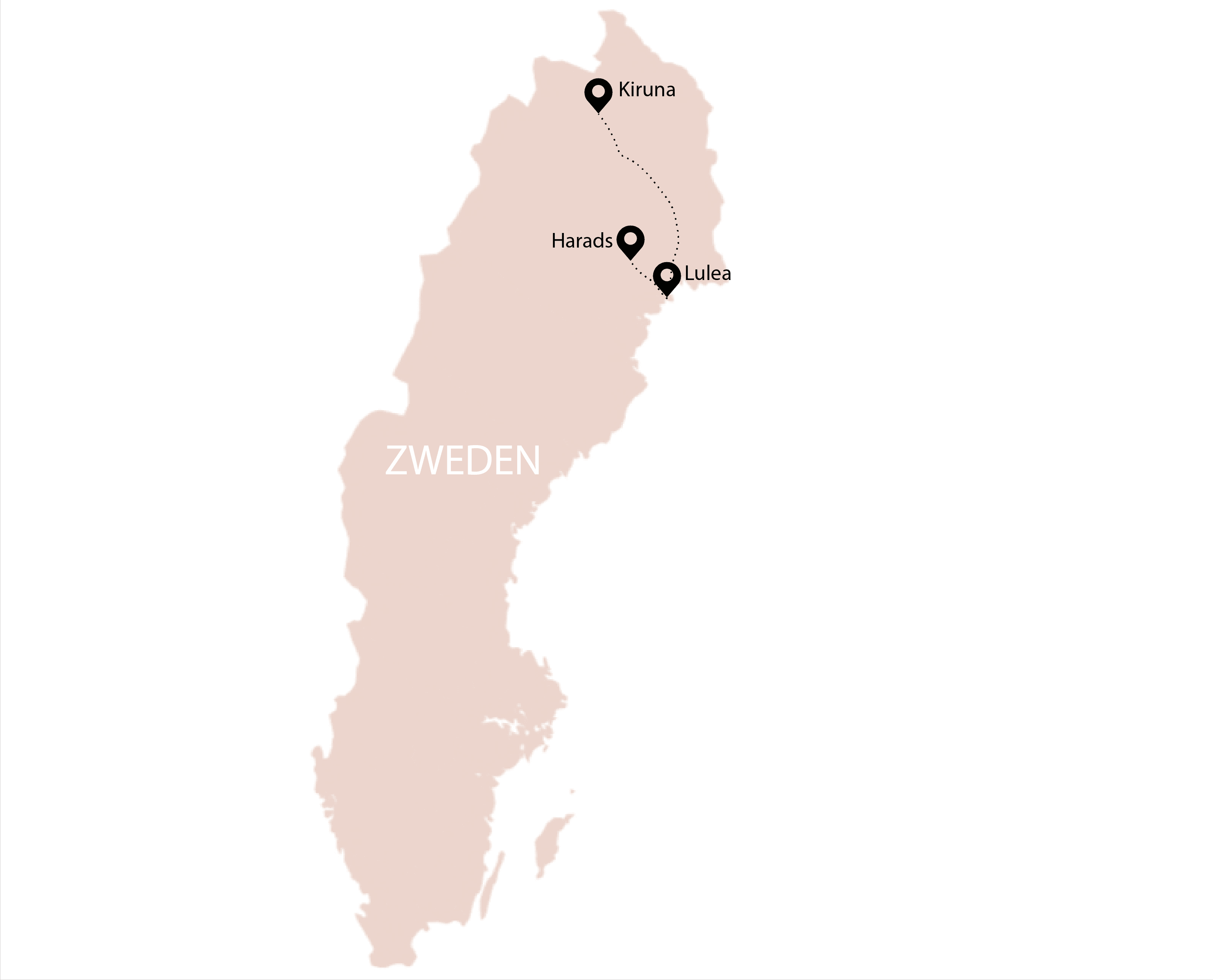 Our first day consisted mainly of flying from Amsterdam to Lulea. We then picked up our rental car which was ready and left for our hotel, which is only a 10 minute drive away. As it was getting late and we had a long car ride planned for the next day, we didn't do anything in Lulea the first night except dinner at a local cafe.
Day 2: Route from Lulea to Kiruna
On our second day in Swedish Lapland we left for Kiruna. The route from Lulea to Kiruna is almost 350 kilometers long; a direct ride of more than four hours. In between, we made a number of stops at places we liked, mainly in very small villages but also in Gallivare. Because of this we have driven more than 6 hours on the beautiful route. On the route the landscape changed from green to completely covered in snow. We also encountered a herd of reindeer on the highway.
Day 3: One of the most beautiful routes in Sweden & Aurora Spa
The next day we jumped in the car again for a beautiful route of about 300 kilometers. We drove from Kiruna to Riksgränsen. Riksgränsen is only a few kilometers from the Norwegian border. We drove through Abisko National Park, along beautiful mountains and the most beautiful lakes. It is not without reason that this is called one of the most beautiful routes in Sweden. In the evening we have visited the Aurora Spa; a winner of the World Luxury Spa Awards.
On our third day in Kiruna, we visited the city itself in the morning. Unfortunately, the iron mine was closed due to COVID-19. We found the Kiruna Church to be one of the most beautiful sights in this city. Then, we drove on to the one and only Icehotel of the world. It is located just 17 kilometers from Kiruna in Jukkasjärvi. One of the most special hotels we have ever been. This hotel is completely made of ice, including the beds, the bar and the glasses.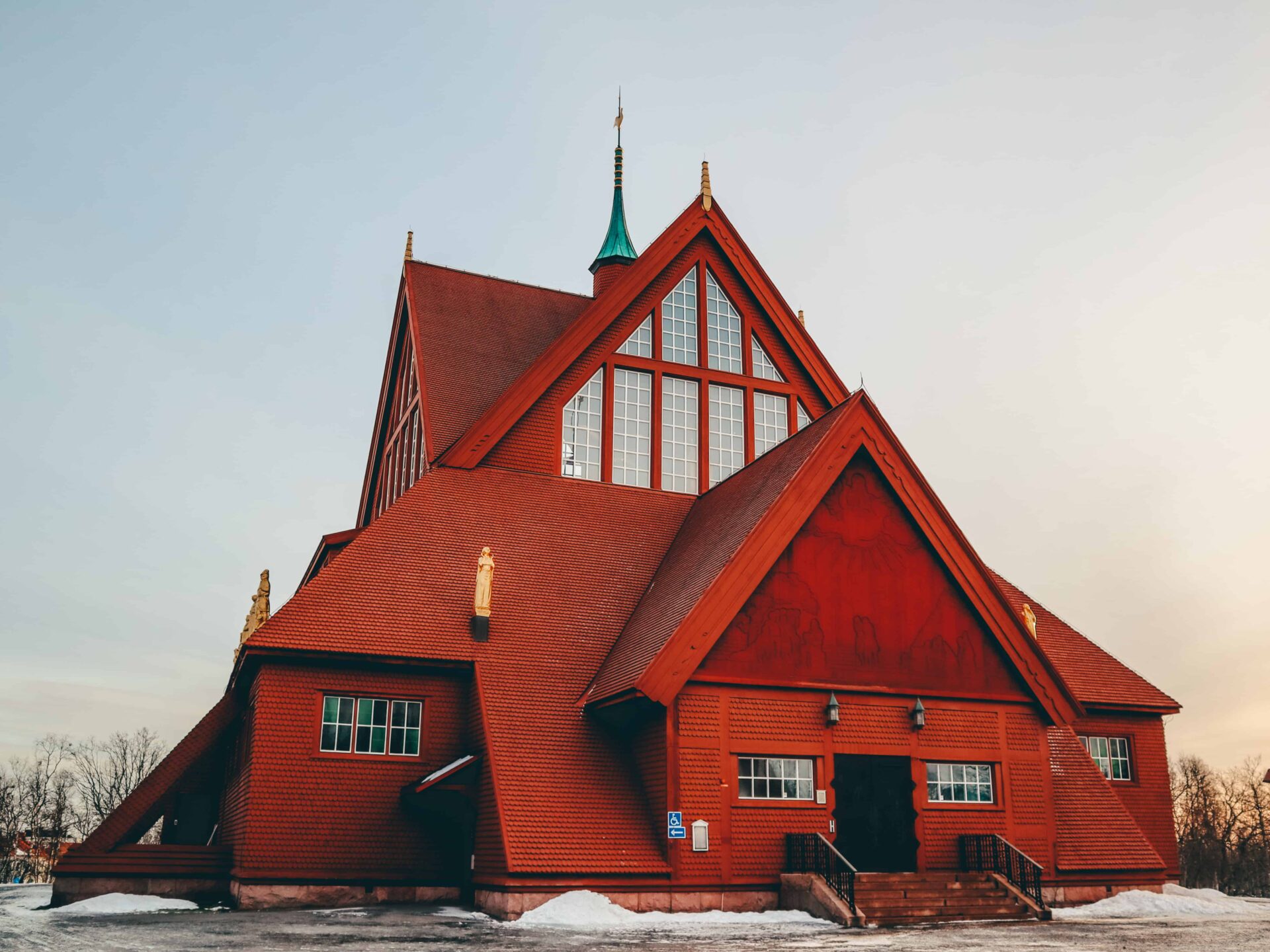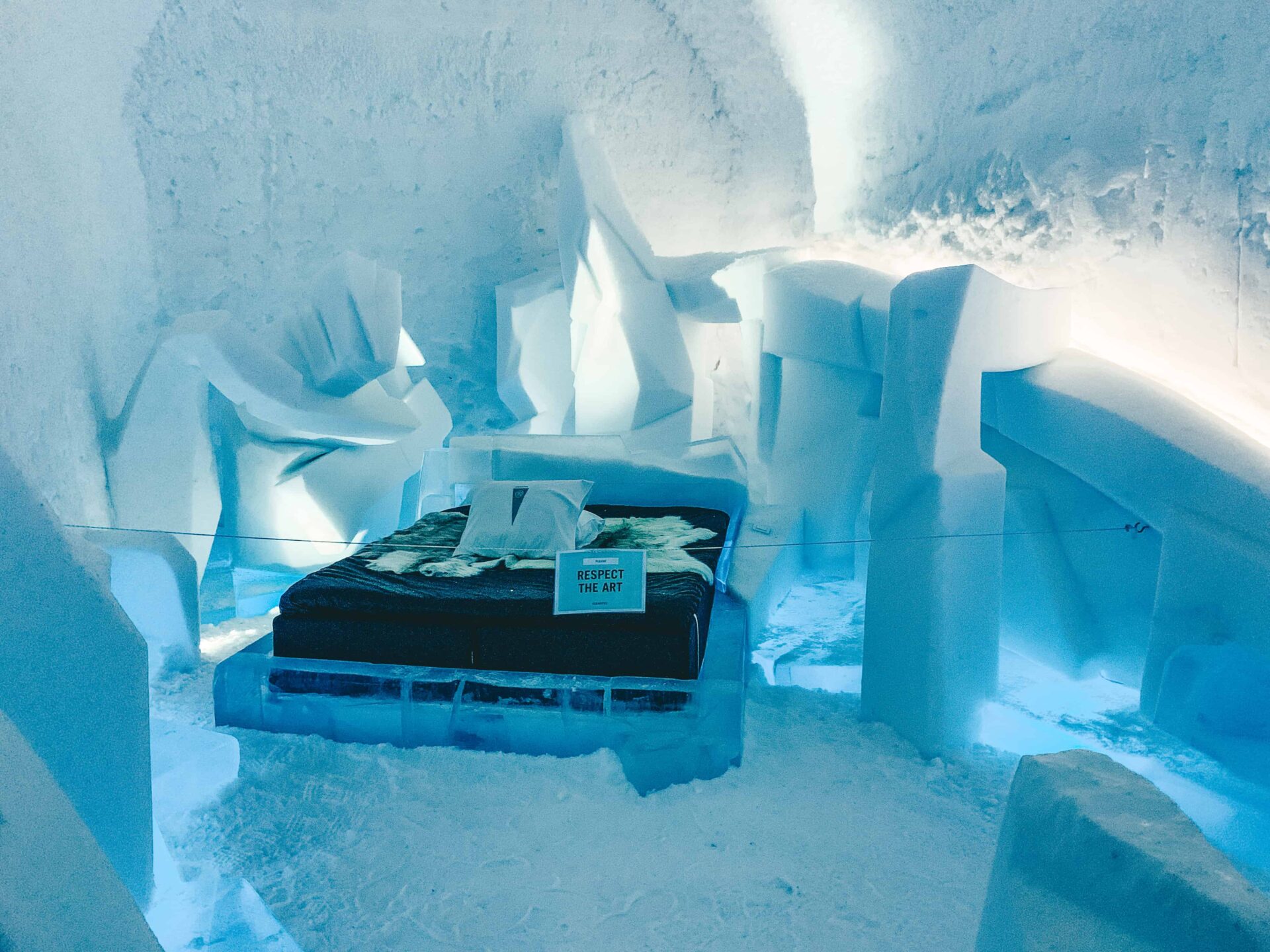 On our fourth day in Kiruna we had another unique experience planned; visiting Husky Dreams. A small farm in Krokvik, just outside Kiruna, with no fewer than 29 huskies. After an extensive explanation and meeting with the huskies, we left for a training with the huskies. We ended the day with a traditional fika together with Per and Jenni, the owners of Husky Dreams.
During our evenings in Kiruna we tried several times to spot the Northern Lights, unfortunately this did not work out. A few kilometers from Kiruna you will find the Abisko National Park; the best place in the world to see the Northern Lights. Unfortunately you still need a little luck to see it.
Day 6: Route from Kiruna to Lulea
On our sixth day in Swedish Lapland we drove back back to Lulea. Another route of about 350 kilometers, and again we encountered a herd of reindeer on the highway. In the evening we walked a bit through the center of Lulea and had a delicious dinner at the Savoy hotel.
The next day we got up early, because this was going to be a busy day. In the morning we visited all the tourist sites of Lulea. We then left from Kiruna to Harads to spend a night at the Treehotel. Here you can read everything about this special overnight stay in Swedish Lapland.
Day eight was our last full day in Swedish Lapland. We woke up in a beautiful treehouse among the forests of Harads. On the return trip to Kiruna, we stopped in Gammelstad. A beautiful church village which is included in the UNESCO World Heritage List, and is certainly worth a visit.
The next day we flew back early from Lulea – via Stockholm and Frankfurt – to Amsterdam.
Transportation during this itinerary
We flew from Amsterdam Schiphol Airport (AMS) – via Frankfurt and Stockholm – to Lulea Airport (LLA) with Lufthansa. The last flight was operated by SAS Scandinavian Airlines. We had booked business class seats for all flights so that we could keep even more distance from other people during this COVID-19 period. We really liked the flights with Lufthansa. The seats were spacious and there was always an empty seat next to both of us. We had a nice meal on both flights, even though the flights were very short. It is therefore highly recommended to also fly with Lufthansa on short flights! We are less enthusiastic about the flight with SAS. Unfortunately, this flight did not resemble business class; we sat close together and didn't even get a drink.
In between our flights we visited the SAS Gold Lounge in Stockholm for a few hours. Here it was very quiet, spacious and clean. In addition, there was good food and a lot of choice in drinks, despite the COVID-19 restrictions.
We have also compensated our CO2 at Lufthansa for both the outward and return journey. For this, Lufthansa works together with Compensaid, and they ensure that your entire CO2 emissions are offset. For our flights, 5.86 trees have been planted, which compensates 977 kg of CO2 emission. We believe it is very important to travel as sustainably as possible and to limit the impact on the climate.
Because we were planning to travel many (long) distances in Swedish Lapland, we had already booked a rental car in advance. We picked up the car at Lulea Airport and returned it there. We have rented a Volvo V40 at Hertz, and are very satisfied with it. Unfortunately, the great distances, nature and infrastructure made it impractical to rent an electric car.
If you are planning to visit Swedish Lapland, we definitely recommend renting a car. That way you can best discover the surroundings and beautiful nature.
Overnight stays during this itinerary
During our first day in Swedish Lapland, we stayed in the Elite Stadhotellet Lulea. This is a four-star hotel right in the center of Lulea. When you step out of the hotel you are directly in the shopping street of the city. We stayed in a standard double room; a spacious room with a double bed and a view of the park in front of the door. The overnight stay included a good breakfast in a huge classic ballroom, which is really the eye-catcher of the hotel. An ideal hotel for a few days in Lulea!
During our visit to Kiruna, we stayed at Camp Ripan. A four-star hotel on the outskirts of Kiruna. In this hotel you stay in your own chalet with its own entrance. The hotel has its own restaurant serving local dishes and a good breakfast. Camp Ripan also has the Aurora Spa, which has been voted the Best Unique Experience Spa in Europe. We did not find the chalet in itself very special, but the location, the good restaurant and special spa make this a great choice!
What we also find very important is that the hotel is certified as an environmentally friendly hotel!
Special overnight stay in the Treehotel
We also stayed one night in the unique and very special Treehotel. A hotel with seven different treehouses in the woods of Harads. A highlight of our trip! Are you curious about how we experienced this unique experience? Read all about our experiences in the Treehotel.
How much time do you need for this route?
We took 9 days for this route including the flights. We had enough time at all destinations and we didn't have to skip any sights. Below you will find an overview of the number of days we stayed per location:
Day 1: Travel day
Day 2: Route from Lulea to Kiruna
Day 3: Kiruna
Day 4: Kiruna
Day 5: Kiruna
Day 6: Route from Kiruna to Lulea
Day 7: Lulea & Treehotel
Day 8: Treehotel & Lulea
Day 9: Travel day