This article is written as part of a collaboration with E-chopper Rental Noordwijk. We always give our objective opinion about products and services that we have experienced or tested ourselves.
At the end of April 2021 we visited the famous Dutch flower-bulb and coastal region. We decided to book two so-called e-choppers, which resulted in a fantastic and active afternoon. We found the combination of these electric mopeds with the splendor of the region to be a real highlight of our stay. That is why we are happy to provide you with the review and tips below so that you can enjoy this region to the fullest!
The diversity and vastness of the flower-bulb region and dunes
Anyone who is in the flower-bulb region between mid-April and early May can enjoy the beautiful blooming flower fields. The attraction of the daffodils and tulips not only attracts bees but also swarms of tourists. For those who have grown tired of the beauty of the colorful flowers after some time, the semi-professional photoshoots by tourists in front of the rows of flowers provide additional entertainment. However, the region is large and offers more than just flower fields. When you move towards the coast you'll quickly find yourself in the beautiful protected dune area where you will find miles of hiking and cycling trails.
Why e-choppers are the best and most fun way to get around
The flower-bulb region is as diverse as it is large. Depending on your condition, you can traverse it by bike. However, in combination with warm weather, the height differences in the dunes offer a real challenge. With the electric mopeds of e-chopperhurennoordwijk.nl you can effortlessly zoom through this beautiful area. In addition to being fun, driving an e-chopper offers you many other benefits. On the way we crossed many tourists on rented scooters. While we drove comfortably side by side and discussed the beauty of the surroundings, we saw people on scooters gesturing and shouting at each other.
At the dunes you will also find signs that they are only accessible to cyclists. Fortunately, an exception has been made for electric alternatives. Alternating the vast flower fields with the dunes is something you shouldn't miss! The e-choppers are the best way to enjoy the environment without polluting or disturbing it.
Riding an e-chopper is easy and safe. We ourselves had very limited experience driving a scooter or moped, but we felt very comfortable and at ease. The wide tires make the whole stable and the seat felt pleasant. The e-chopper of e-chopperhurennoordwijk.nl reached a maximum speed of about 30 km/h which is perfect for covering a longer straight stretch. You do not need a helmet to drive the e-chopper.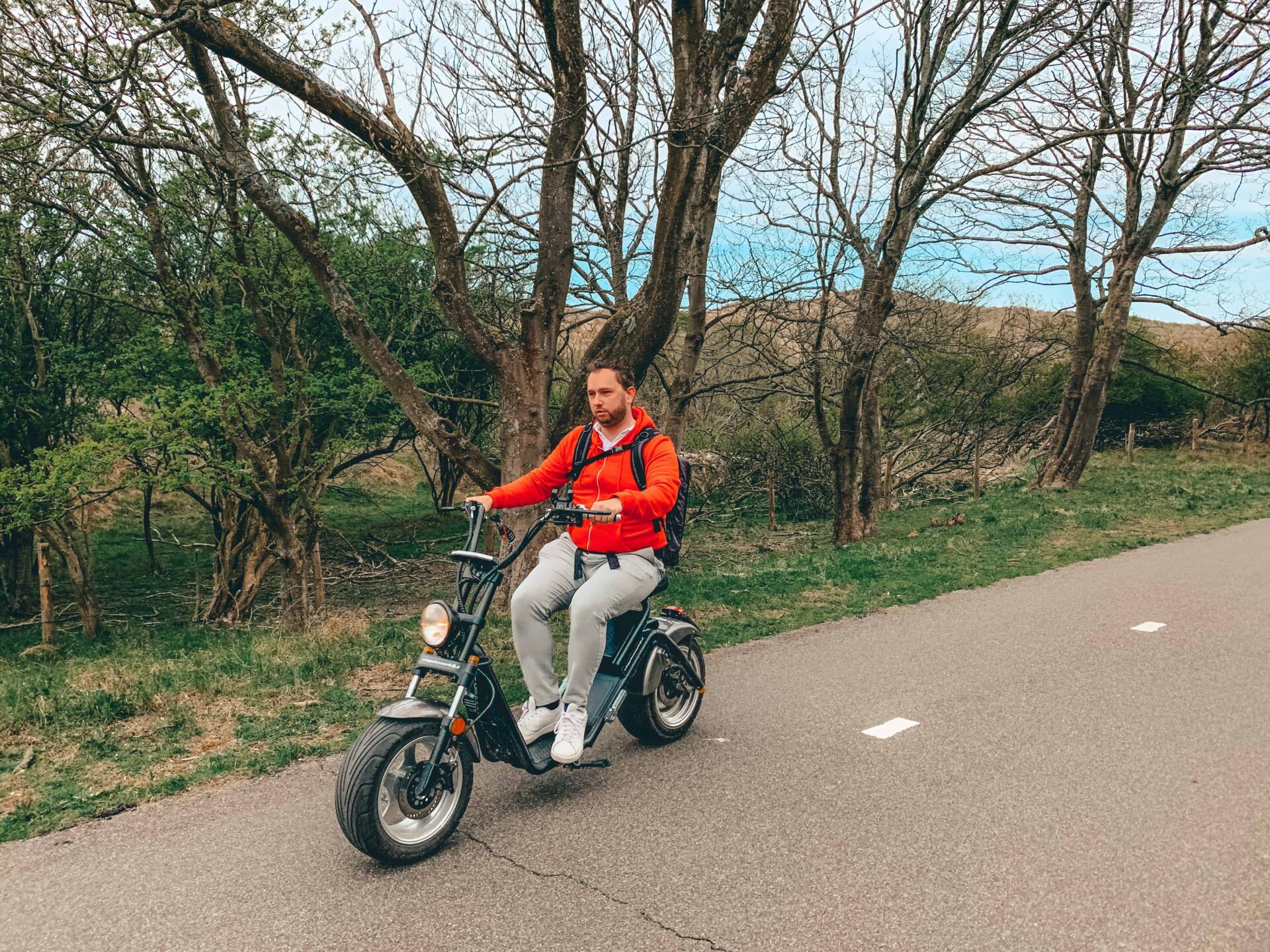 When we rented the e-chopper, the following three routes were offered:
This route of approximately 25 kilometers takes you over the boulevard of Noordwijk aan Zee, through the beautiful dune area and along the Oosterduinse lake. Along the way you will pass various flower fields.
This approx. 35 km long route shows you everything this region is known for. During this tour you can enjoy the dunes, the flower-bulb fields and of course the pleasant seaside resort of Noordwijk aan Zee. This route is an extension to route 1.
Route 3 (whole day package)
Do you want to see more of this region? Then choose the longest route of about 50 kilometers. This route also covers everything from routes 1 and 2, expanded with longer stretches through nature in this coastal region. This route also offers more opportunities to enjoy, for example, an extensive lunch along the way.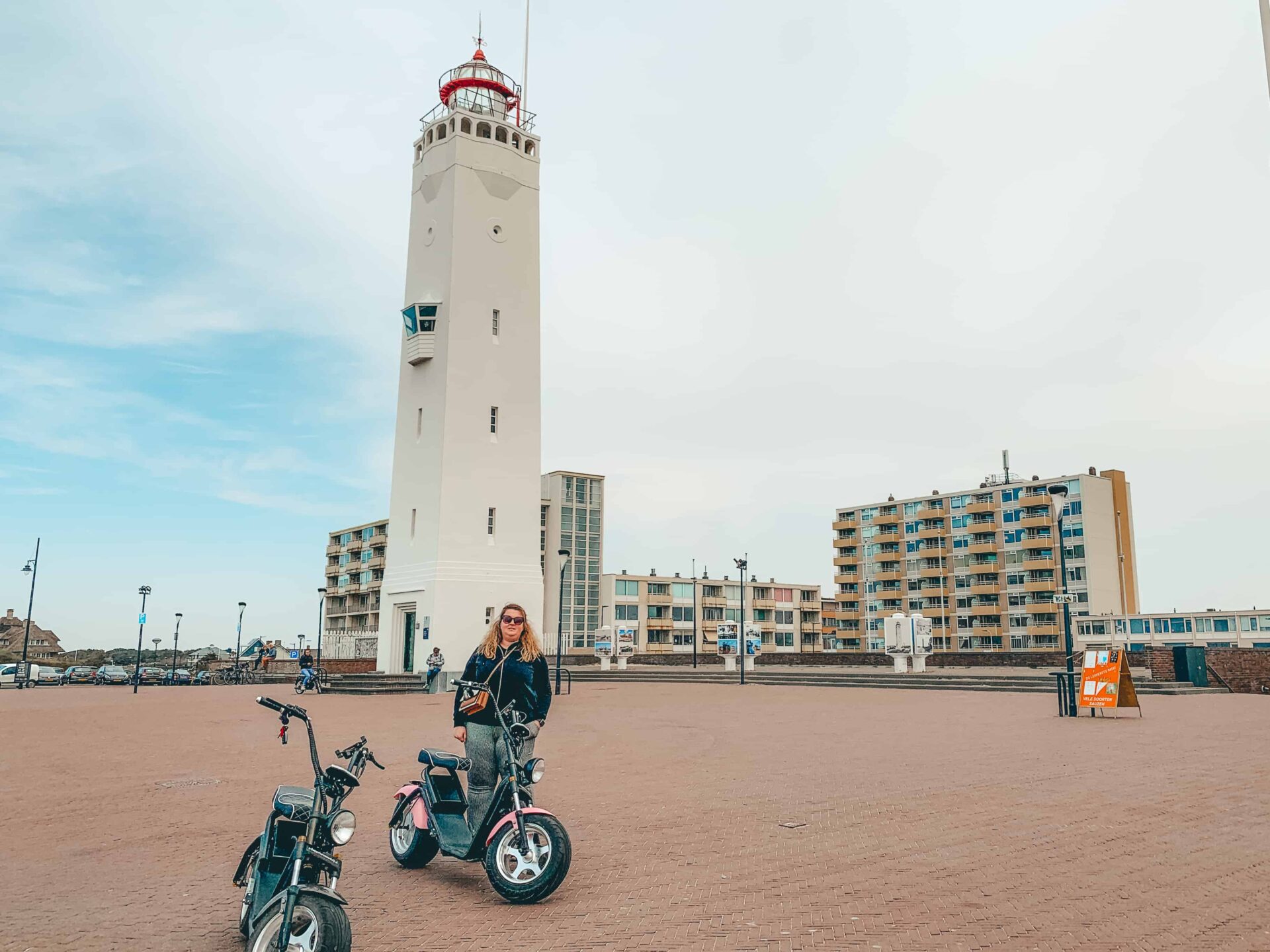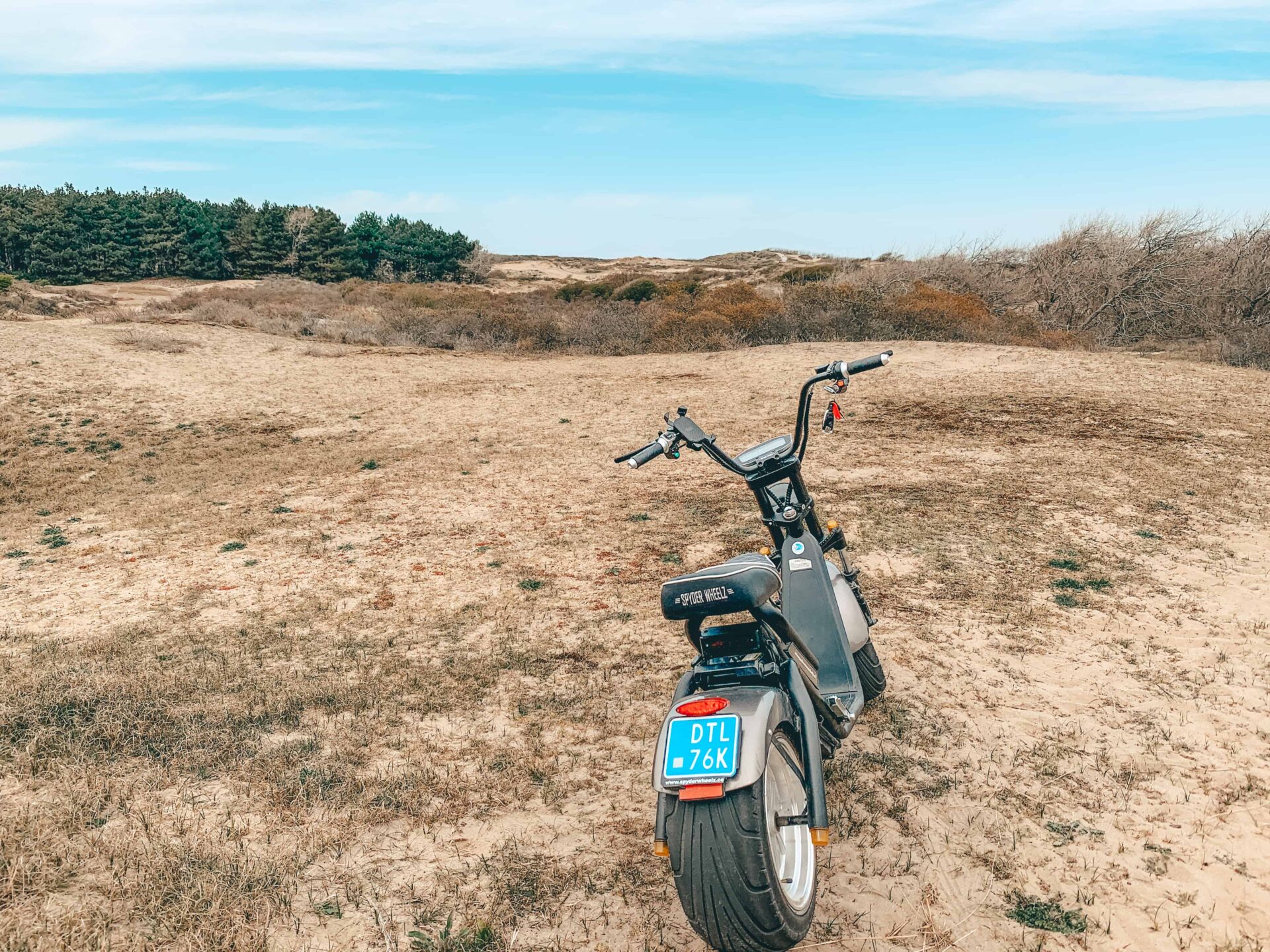 If you do not want to drive a pre-programmed route, that is certainly possible. You can of course drive freely within the time of your arrangement. We advise you to follow one of the mapped routes, unless you are already familiar with the region. The renter has carefully thought about these routes, making sure that you will pass the most beautiful places!
We ourselves have used Route 2 in which all the highlights are covered. With average traffic on the cycle paths, we had enough time to stop about 5 times along the way to take photos and videos or a short walk. We had drinks with us, but this route certainly also offers the space to enjoy a coffee to go along the way. We navigated via our phone after we had downloaded the selected route. You can download the route when you pick up the e-chopper.
As you have already read, we are very enthusiastic about the e-chopper tour from e-chopperhurennoordwijk.nl.. Below you can read more about our personal experiences.
Reservation and collection of the e-chopper
We were very late with the reservation, but they were flexible, so that when some e-choppers became available earlier, we could still leave that afternoon. Our starting location was Hotel NH Noordwijk Conference Center Leeuwenhorst. This location is easily accessible and you can park your car (or bicycle) for free. Here, we had the opportunity to get used to the e-chopper on the spacious site. Also we received a good explanation without being overloaded with information. After only 5 minutes we left from this location. You can first get used to the e-chopper on quiet roads before you drive onto the often somewhat busy boulevard of Noordwijk aan Zee.
We were also pleasantly surprised that a reliable phone holder for every size phone was mounted on the handlebar. This is better than the rickety holders that we often see with which you cannot drive too fast over a speedbump if you want to keep your phone free of damage. The phone holder also comes with a USB connection that allows you to charge your phone while driving. You must bring your own charging cable. The battery of the e-chopper was also more than enough for us to cover the 35 kilometers without charging stress.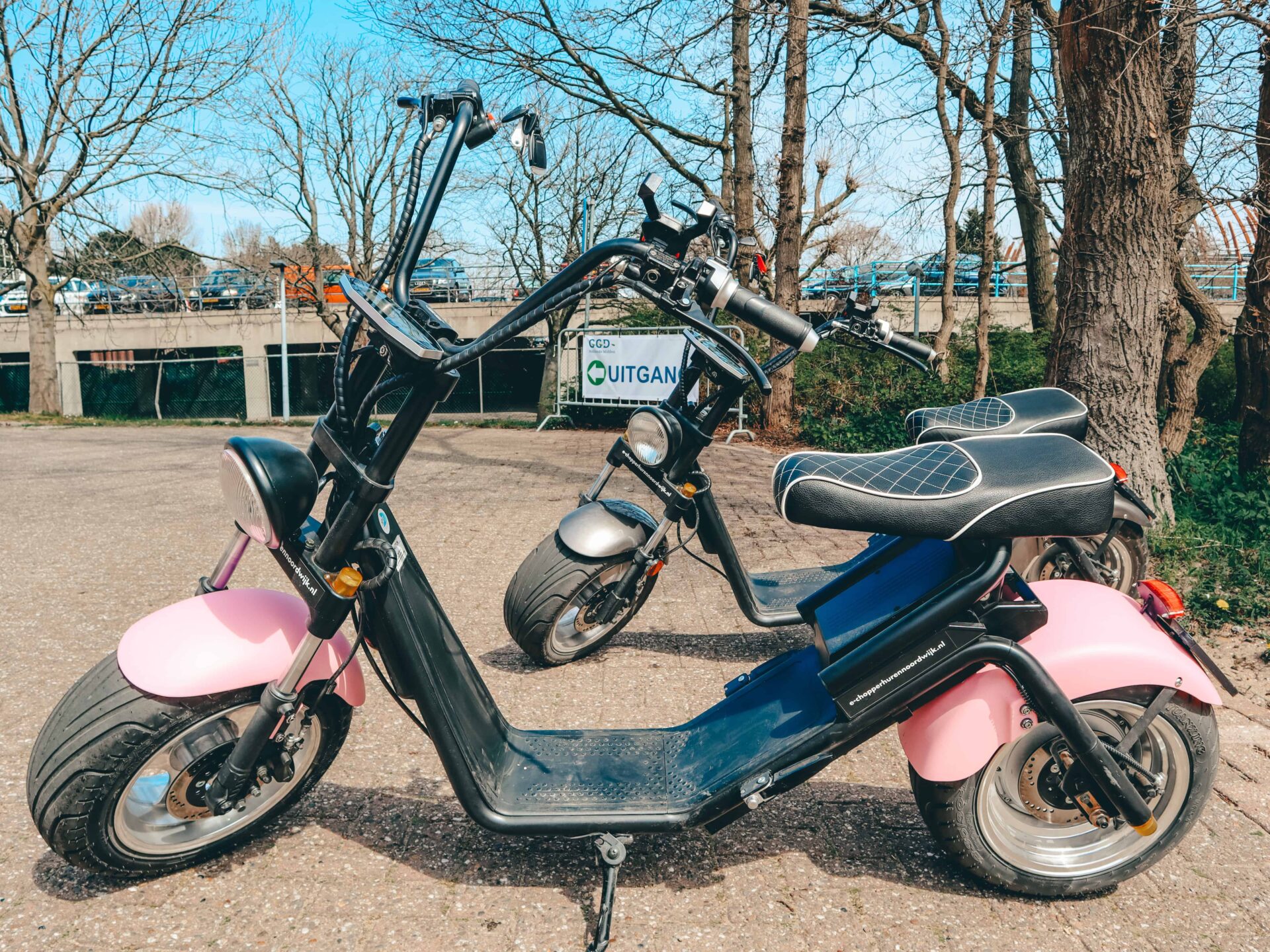 What would have made the experience even better
What we missed was suspension. Despite the fact that the seat of the e-chopper is pleasant, you immediately notice the importance of suspension as soon as you drive over a manhole cover or unevenness in the cycle path. If you already have back complaints or want to avoid them, it is advisable to avoid large irregularities or to make good use of the brakes. Furthermore, our e-chopper lacked a side mirror, which is useful for keeping an eye on other road users as well as whether your party is still driving behind you. In contrast to non-electric mopeds and scooters, you will not hear this.
To ensure that you get the most out of your e-chopper tour through this fantastic region without any inconvenience, we recommend that you;
Bring a USB charging cable for your phone. The navigation completely drained the battery of one of our phones at 20 kilometers (out of 35).

There is no basket on the e-chopper, so it is advisable to bring a good backpack with everything you may need during your tour.

No children are allowed on the back (this does not fit properly either) and a valid driver's license (car or moped) is required to drive the e-chopper. Therefore (small) children cannot come along.

In sunny weather, we advise you to bring sunscreen and drinks. Because of the wonderful breeze on the way, you hardly notice the solar power. On the other hand, it is good to put on a windbreaker in cool weather as the outside temperature feels a bit cooler at a speed of 25 kilometers per hour.
As far as we are concerned, the e-chopper is the best means of transport to explore the dunes and flower fields in an incredibly fun way. You will visit places where you cannot reach by car or non-electric moped and you will have plenty of time to take in the environment. With this article we hope to provide you with all the information to make your visit to this region a great success. If you have any questions or comments, we invite you to leave a comment below.